Bien fait! Midlothian French Program Awarded Distinction
American Association of Teachers of French Award of Exemplary Program with Honors
Crafted from the hard work and collaboration of a legacy of past and current Midlo French teachers, Midlo's French Department received the American Association of Teachers of French (AATF) award of Exemplary Program with Honors. Only eleven schools and universities in the nation received the distinction this year.  Midlo stands as only the second educational institution in Virginia to receive this award.
Over the past years, Midlothian High School's French program has succeeded in numerous notable endeavors. Recently, Mme. Garrison conducted a Project-Based Learning  (PBL) initiative that led her advanced French students to write and publish French children books and then send them to Haiti. To achieve this PBL initiative, Midlothian French students and faculty utilized modern technology to affect change in the world around them. Strong initiatives like this have allowed the Midlothian French program to establish a program of exemplary distinction. Whether making contributions outside the classroom by volunteering at nursing homes around the Midlothian community, helping the Little Sisters of the Poor charity at the RVA French Food Festival, or just exhibiting enthusiasm, Mme. Lindsay Garrison and Mme. Catherine Mazzola, along with their French students, have created an extraordinary French program that shines both inside and outside of the classroom.
Inside the classroom, students constantly excel, proving themselves on standardized assessments like the National French Exam (Grand Concours), the AP French Language and Culture exam, the International Baccalaureate French exam in both standard level (SL) and higher level (HL), and the SAT II French subject test, receiving high marks, as well as awards commending their achievement and aptitude. With the careful guidance of Mme. Garrison and Mme. Mazzola, some students also bring their experiences abroad in France to the classroom. This year, Mme. Mazzola arranged for dedicated upper-level French students to visit Épernay, France, where they applied their education to a relevant setting.
The Midlothian High School's French program has the ability to make French relevant to students' daily lives here in Virginia. Numerous graduates leave Midlothian High School to study French at the college level, prepared to take employment positions based on their sought-after French linguistic abilities. Midlo's current French teachers, Mme. Garrison and Mme. Mazzola, as well as former Midlo French teachers Mme. Evaline Jones, Mme. Marsha Taylor, Mme. Debbie Bartle, have established a truly phenomenal program. As CCPS World Language Specialist Dr. Linda Szwabowski eloquently stated, "The Midlothian High School French teachers show excellent preparation, steady commitment to professional development, and enthusiastic dedication to their work".   Mrs. Donna Dalton, CCPS Chief Academic Officer, echoed these sentiments as she presented Midlo Principal Shawn Abel and the Midlothian French Department with a plaque to commemorate this incredible achievement on Tuesday, May 9, 2017, during Midlo Morning, followed by a brief reception.
About the Writer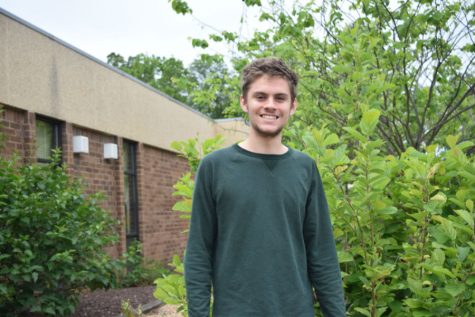 Michael DeMatteo, Marketing Editor
Michael DeMatteo, Class of 2017