Blue and Gold Pep Rally
On September 18, Midlo kicked off the 2015-16 school year with the first pep rally of the year. The crazy atmosphere of screams and excitement filled the gym, which certainly must have provided a unique experience for the freshmen's first pep rally. As the drumline marched through the halls of Midlo, playing their loud rhythms, excitement rose among the students, who could not wait to be released for the blue and gold pep rally. Once called, the students emerged from the classrooms and rushed to the gym to get a good spot in the stands. Once the stands were filled and the students were ready, the chaos began.
 As usual, the seniors pulled out the win in this one, but they fought for it, battling hard against the other three classes. Juniors showed a lot of perseverance, as they jumped their highest and screamed their loudest. They ended up proudly taking second place. Sophomores, with a great performance, came in and aimed for first place, but fell short, landing the third place spot. Not knowing what to expect, the freshman did well amid the screams and cheers of the other classes, even though they placed fourth.
The arrival of the new Trojan mascot grew appreciative glances from the students and faculty, as he patrolled the raucous gym. Routines from the cheerleaders and Trojanettes drew wild applause, and some of the customary pep rally games were replaced with crab soccer and an odd game involving ping pong balls and tissue boxes. One thing is for sure: Midlo spirit is alive in 2015!
About the Contributors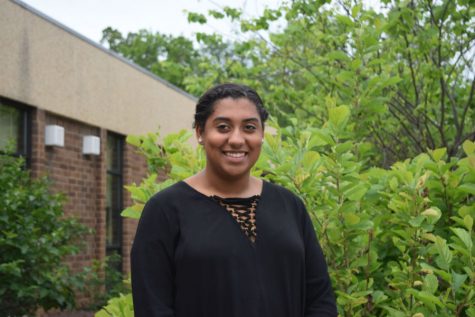 Alexa Battle, Photographer
Alexa Battle, Class of 2017