Midlothian Cheerleader Leaves His Mark
Slater Beck Makes Mark as Midlo's First Male Competition Cheerleader
Cheerleading has become an increasingly popular and respected sport that requires a large amount of strength and dedication. This year, a surprising member of the Midlothian competition team displayed that strength and dedication: Midlo's first male competition cheerleader, Slater Beck.
The junior began cheerleading only four years ago, when friends convinced him to join the Cheer Central Suns in Colorado. After moving to Midlothian halfway through his sophomore year, Beck joined Fame Allstars. Slater competes on Fame Vengeance, where he has gained incredible opportunities to compete in major competitions, such as: NCA and Worlds in Orlando, Florida.
Slater's contribution to the Midlothian competition team is widely noticed, leading him to make First Team All-State. His standing full and physical abilities helped carry the Trojans to Regionals, where they placed sixth out of fifteen teams. Kylie Riekel notes, "At first he was intimidating, but he has become one of my best friends, and he enabled us to score higher with his tumbling and strength in stunts." Slater hopes to further his cheerleading career after high school and participate in college. "Cheerleading means a lot to me, and I hope I continue to get the opportunity to perform," says Beck.
Slater Beck is glad he made the decision to join the Midlothian cheerleading program. "I made new friends while getting to do what I love," he explains. His contributions to the high school team set the standards high, making the Trojans a threat for next season. Although Beck has only lived in Virginia for a short time, he has already made history as Midlothian High School's first male cheerleader.
About the Contributor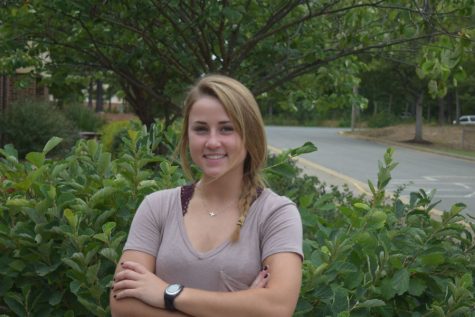 Lara Ann Douglas, Staff Writer
Lara Ann Douglas, Class of 2017