Trojans Finish Strong
Midlothian's Football Team Wins Final Home Game of the Year
Throughout recent years, Midlothian High School has struggled to produce strong collegiate football talent. However, with two athletes committing to competitive schools on both the Division I and Division II level, this trend has surely shifted.
Senior transfer Jermani Brown and teammate Joey Doherty have both committed to play football for top level universities. Brown, a former Arizona State commit, left his hometown of Calabasas, California, to join the Trojans late last school year. This change also affected his college choice. With offers from schools across the nation, Brown decided to decommit and take his talents to the Midwest powerhouse Boise State. His 5'10 frame, accompanied by his impressive speed, allow Brown to rank among the best cornerbacks in the state, in turn, contributing to a growing Trojan program.
Brown's teammate, Joey Doherty, also committed as a two-sport athlete to Salisbury University in Maryland. This star athlete will play baseball and football for the Seagull's Class of 2021. After fracturing his clavicle at the end of the last season, Doherty wasn't sure he would come back to full health. However, the wide-receiver returned with impressive receiving numbers, along with a kick return touchdown.
These two athletes have contributed significantly to the three key victories for the Trojans. Midlothian traveled on the road to defeat Huguenot on their newly developed turf field. Also, two victories at home came against George Wythe and Clover Hill. With triumphs, however, come defeats, as the Trojans lost to L.C. Bird, James River, Monacan, Powhatan, Douglas Freeman and Manchester. Midlothian fought hard against Manchester, who ranked #1 in Central Virginia at the time. The Trojans eclipsed L.C. Bird's 14 points put up against the Lancers in the first quarter alone, tallying a total of 26 points.
Months of intense practice and conditioning earned Midlothian´s football team the number four spot on VHSL Reference's 804 Most Improved list. The team exhibited numerous surprising performances, helped by the encouragement and leadership of junior captain Kyle Daniluk, and Seniors Ivan Jackson and Joey Doherty. Unfortunately, season-ending injuries to starting quarterback Kyle Daniluk, along with mild injuries to much of the offensive line forced the Trojans to dig deep into the bench. A team that graduates two athletes to prestigious high schools shows that Midlothian's football team is surely on the rise.
Leave a Comment
About the Contributor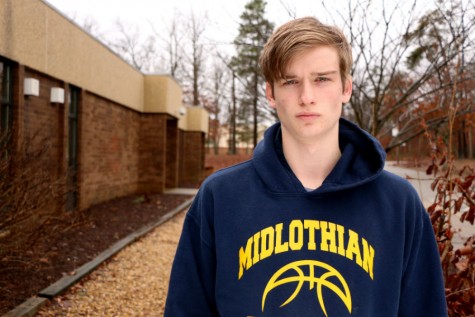 Lucas Via, Sports Editor
Lucas Via, Sports, Class of 2017