Tumbling to Regionals
Midlothian Competition Cheer Squad Earns Third at the Conference 20 Competition to Secure Regionals Spot
On October 20, 2016, a week after placing fourth in the District Competition, the Midlothian Competition Cheer squad traveled to Dinwiddie High School to compete in the Conference 20 Championship. Six teams battled to place top four in order to move on to Regionals, and the Trojans did just that.
After a ten minute warm up, Midlothian waited in the locker room for the competition to commence. Senior Apryl Bradt recalls what the hour long wait it felt like: "You could definitely tell everyone was antsy, but we goofed off and blasted music and tried not to let our nerves get the best of us." At 7:00 pm, captains Lara Ann Douglas and Lana Figg led the Trojans into the gym for the introduction of teams. After a quick second warm up, the Trojans took the mat to open the competition. Powerful tumbling passes and difficult stunts hit perfectly. An excited crowd helped the team find the endurance to push through their three minute routine. Megan Adamik explains, "It's so helpful to hear fans cheering during our routine; it lets us know that everything's hitting, and it makes the routine super-exciting for us."
After all performances, the six teams sat anxiously in hopes of hearing their school's name called in a top four spot. "We've gotten fourth in the past three Conference competitions," says cheerleader Grayson Levitch, "so I got nervous that I had just competed for the last time when we weren't called for fourth place." Despite the scare, months of hard work paid off for the Trojans, as they received third place. Midlothian will have their eyes on states as they take the mat once again at the Regional Competition on Saturday, October 29th at Grafton High School.
About the Writer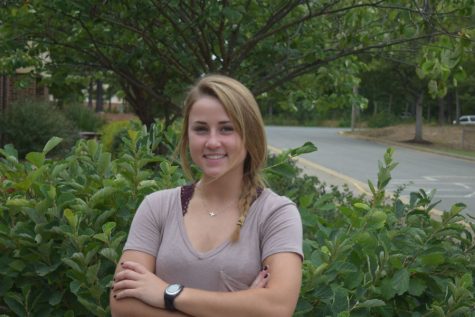 Lara Ann Douglas, Staff Writer
Lara Ann Douglas, Class of 2017