Message from Dr. Abel
Midlo Principal's Message: April 19, 2022
I hope everyone enjoyed their three-day weekend. It looks like we should have two regular (five-day) school weeks in a row now. I hope we can handle that. 
This is crunch time for many students – the last seven weeks of school (less than that for our seniors).  Please encourage your student to work with our faculty and staff to finish as strong as possible. I have no doubt they can do it and when they learn to develop the level of grit that is necessary to achieve their goals, they will be prepared to accomplish whatever lies ahead. Just the other day, a parent shared that JMU conducted a survey to determine student preparedness, and it was determined that Midlothian HS graduates are the best prepared students to succeed at their university. I truly believe that is most likely true for all post high school endeavors. Their hard work will pay dividends.
Daily Announcements
Click here at any time to view our daily slideshow announcements or our weekly video announcements
Click here to view this week's video announcements.
Senior Info and our Senior Website
Please take a few minutes to read this senior letter, which provides a wealth of information regarding our upcoming senior events. We are so proud of our seniors and look forward to celebrating their successful completion of 13 years of school on May 23. In order to be prepared for graduation and other important senior events, it is important that students and parents read this senior letter.
As we make changes and updates to our senior plans, we will communicate all information on our Senior Information Website. Click here or visit bit.ly/MIDLOHS2022 to access our Senior Information Website.
Attention Junior and Senior Parents and Students
We are so excited to host our 2022 prom this spring at the Thomas J Fulghum Conference Center on Hull Street, from 8 P.M. – 11 P.M. on April 23, 2022.  
Online Prom tickets went on sale back on March 21 on this site. (Students should click on High Schools, scroll down to Midlothian High School, and look for Events: Senior/Junior Prom 2022.) Online sales will be open through Wednesday, April 20.
If you were not able to purchase your ticket online, prom tickets will be on sale through Wednesday, April 20th, during all lunches in the closed commons. All prom tickets are $40.00. We are not selling tickets after Wednesday, April 20 so please make your purchase now.
If you were able to purchase your ticket online, you must still pick up the actual ticket during your lunch period on Tuesday April 29 or Wednesday, April 20. You must have an actual ticket to attend the Midlo prom.
Seniors who have paid their class dues will receive one (1) complimentary prom ticket. The complimentary prom ticket may be picked up during your lunch period on Tuesday April 29 or Wednesday, April 20. You must have an actual ticket to attend the Midlo prom.
A verified approval form for outside guests must be provided.
Click here to view our Prom Announcement Infographic.
Prom night will go by quickly! Please remind your student that the evening can last a little longer by attending POST PROM for more music, food, games and prizes! Tickets are $10.00 and  will be on sale tomorrow (4/20) during lunch. Please send in $10.00 cash or a check made out to Midlothian PTSO. For your convenience, post prom tickets will be on sale at the table right next to the prom ticket table.
As always, please contact your school counselor if you are experiencing any financial challenges and need support.  We will do our best to assist students in need any way we can.
Attention Seniors
Scholarship Opportunities
Please click here (and check back frequently for updates) for updated scholarship information
Senior Cap & Gown Portraits
Will take place during the day on April 26, 2022.  Seniors will sign up for a time using the link below
https://drive.google.com/file/d/1OuJLQflD4elRTmEdhYl9kfifd4J-JWua/view?usp=sharing
Click here to sign up for your senior cap & gown portrait on the 26.
Senior NHS Induction Ceremony
The Senior NHS Induction Ceremony is this Thursday, 4/21 at 7 P.M. It will be held here at Midlothian High School in the auditorium. Family members and guests are welcome to attend the ceremony. This ceremony is only for SENIORS who were already accepted into the NHS. Juniors that have applied to the NHS this spring will receive acceptance information by the end of April. A ceremony for Junior members will be held next Fall.
Summer School Information
Whether you need to repeat a class or you're trying to jump ahead – click here to view the CCPS Summer School Information website.  If your student is in danger of not passing a class, please sign them up for summer school ASAP.  Such courses are available in-person, free of charge, are only four weeks in length, for four days per week, for approximately four hours per day.  Transportation, breakfast and lunch will be provided.
Rising Seniors – Class of 2023
Virginia students are required by law to get these vaccines before entering 12th grade:
A minimum of two doses of meningococcal conjugate (MenACWY) vaccine
The first dose should be administered before entering seventh grade. The final dose should be administered before entering 12th grade. Meningococcal vaccines help protect against the bacteria that cause meningococcal disease.
Health Department immunizations are available by appointment only for children age 18 and under. To schedule an appointment, call 804-768-7454.
Inform your school. Provide a copy of the immunization record to your high school as soon as possible.
Questions? Contact your school nurse or the Office of Student Health Services at 804-639-1321.
Attendance Reminder
We have prepared attendance notes that you can download and fill out for your student's tardy, dismissal, and absence. Click here (or visit https://bit.ly/MidloNote). Please refrain from solely using nicknames on student notes.  Any student note should always have the student identification number and the name of the student upon enrollment.  If your student has a preferred name or a nickname please put that in "…" following the enrolled name and student id. In addition some friendly reminders for parents and students are as follows.
Notes for dismissal, absence, or tardy:
Should be dropped off to the attendance office upon arrival at school, or between the first block and Midlo morning.  
If someone other than a parent/guardian is picking up your child for an early dismissal:
We need that in writing as students can be dismissed only on the request and authorization of the parent or legal guardian.  

Students shall not be released during the school day to any person not authorized by the student's parent or legal guardian.
Students returning to school from an appointment:
Are required to check back in with the attendance office upon arrival.
Students who become sick at school:
Must request to see the nurse. Students should not text home to be picked up before seeing the nurse.

The clinic  will contact the parent if pick-up is needed. The school must document any student leaving school ill.
Questions or notes regarding attendance can be sent to [email protected] or call 804-378-2440 ext. 4127
Calling all Athletes (and parents who want pictures)
If you'd like to purchase pictures from your child's athletic team this year, please follow these steps:
Go to

www.candidcolor.net

Click on "Sports Portraits"

Click on the blue button that reads "2021-22 School Year Pictures"

Enter the online code: MDHSM22

Enter the specific sport code and your email address.
Please note, photos may take 4-5 weeks to post in the portal.
Behind the Wheel Sign Up Dates Rescheduled
Behind the Wheel Summer sign ups for this week are being rescheduled. The new dates and times are as follows:
April 26, 27 and 28 from 3 P.M. – 3:45 ish. Closed commons.
PTSO Update – Post-Prom info
Reminder:
If you have signed up to donate items for post prom they are due to the front office by 4/20. 
VOLUNTEERS, WE NEED YOUR HELP!!!
The Post Prom Party is a fun and safe way to continue the prom night celebration for our JUNIORS and SENIORS.  After all they have been through, these kids deserve this lasting night of fun!!!!
Please view our Sign Up Genius to see the many ways you can help!
https://www.signupgenius.com/go/10c0c4caead2cabfdc70-post
All grade level parents are invited to volunteer! This event is a great way for the parents of FRESHMAN and SOPHOMORES to meet other parents, get involved with the PTSO, and get a glimpse of what the future holds for their students!
We hope to see you there!
Out of the Loop?  Check out the Scoop…..
Experience Midlo's final pep rally of the school year through pictures. Miss out on the student tailgate? Read about it here and see the cheerful photos here.
Keep up to date with our Instagram – @MidloScoop
If you are interested in advertising in the Midlo Scoop, please contact Lisa Martin Hudgins at [email protected].
For Ethiopian Children Fundraiser Event Fundraiser
The For Ethiopian Children Fundraiser Event Fundraiser will be sponsored by the SCA and Speech & Debate Club. It will be hosted by Bethlehem Agegne, here at Midlothian High School – behind the school on the practice field. It is on May 7 from 2-6 P.M. and entry to the event is free. There will be fun-packed activities such as face painting and tug-a-war. An auction and book sale will occur. If you would like to donate books, put them in the donation drop off bin outside the attendance office at school. If you wish to donate items to auction off, please drop them in the main office.  
Chick-fil-a, music, dances, and more will be at the event. This event will help raise money for the For Ethiopian Children Fundraiser. So please bring your families and friends to enjoy the special day, we hope to see you there!
For more information, please check out our flyer by clicking here or visit the website below.
https://forethiopianchildr.wixsite.com/donatenow
IB Spirit Nights at Chicken Fiesta
You have two choices (or pick both like me) to support Midlo programs, while enjoying some delicious food from Chicken Fiesta – at the location across from Midlo Middle School.
Your first opportunity is on Tuesday, April 19 from 4 – 7P.M.  
Drive thru, order in store or make it take out and mention Midlo IB! Chicken Fiesta serves delicious, made from scratch TexMex specialities – just tell them you are there to support Midlo IB.
And the following night, on Wednesday, April 20, from 5 – 8 P.M., the Midlo Band is hosting a Spirit Night at Chicken Fiesta. Just tell them you are there to support the mighty, mighty, Midlo Band.
Midlothian Athletic Booster's Association – Spirit Night At Chipotle
Come to the Chipotle across from Chesterfield Towne Center on April 20 from 5 – 9 P.M. Simply mention this is for Midlothian Athletic Boosters Association for dine in credit.  For takeout use this code, V2XYGPM,  for credit for MABA.  Flyer Link here.                                                                                     
From the Career Center
CCPS Job Fair – scheduled for  Wednesday, April 27 from 3:30 – 6:30 P.M. for ALL students – at CTC@Hull (Fulghum Conference Center, 13900 Hull Street Rd, Midlothian).  Employers ready to hire will interview on site.  Students register HERE to attend.  See flyer for more information.
Richard Bland College Spring Admissions Fair

– Saturday, April 23, 2022  10 – 12 P.M.  Take a tour, meet with Financial Aid, and receive an Admissions decision on site.  Register:

[email protected]

or                  phone: (804) 862 – 6249      

Looking for SOL Prep materials before Spring testing

?  Check out these resources:
April 29 is deadline for CCPSOnline
April 29 is the deadline to register for CCPSOnline classes for this summer and for the 2022-23 school year. Wondering if this high school program is right for you? Here's what one student says: "CCPSOnline helps me reach my academic goals by having wonderful teachers showing and helping me how to use the information I am taught. CCPSOnline … shows me how to responsibly use my time and gets me ready for future experiences." Details at mychesterfieldschools.com/ccpsonline/. (Note: Registration is open through June 1 for summer school opportunities that are not connected to CCPSOnline.
Leave a Comment
About the Writers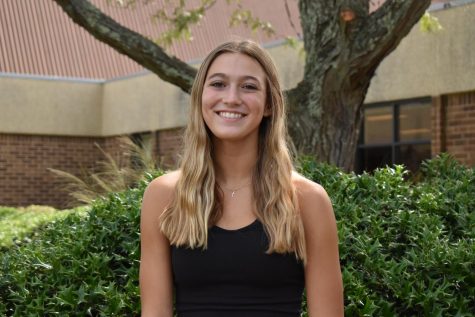 Lilly Moidel, Midlo Scoop Staff
Lilly Moidel, Class of 2024

Sophomore Lilly Moidel has been on staff for two years, and enjoys writing about sporting events, and stories that involve...