Message from Dr. Abel
Midlo Principal's Message: February 15, 2022
While we went from nearly 70 degree temps on Saturday to flurries on Sunday, we were fortunate to avoid school schedules being impacted (this time). Don't forget to check in with your students on their progress in classes as we wrap up the third nine-week marking period in a few weeks (March 18th). As a reminder, next Monday, February 21 is a student and staff holiday. All school offices will be closed.
What's happening
Be sure to check out our daily announcements to remain informed. Information related to club news, tutoring options, and more can often be found on our school's daily announcements.
Daily Announcements
Click here at any time to view our daily slideshow announcements or our weekly video announcements
Click here to view this week's video announcements
School holidays
President's Day on Feb. 21 is a student and staff holiday for all Chesterfield County schools.
Transportation Update
In an effort to eliminate departure delays and improve our service, CCPS transportation has made several adjustments to the bus schedules for many students.  If you ride a bus to or from school, please refer to e-Link for possible changes made to your child's Midlothian High School route that will take effect Wednesday morning, February 16, 2022.
To view your student's routing information:
Log into e-Link at the following site:

https://chesterfield.tylertech.com/elinkrp/login.aspx

User Name

: Enter your child's CCPS student ID number. If your student doesn't know the number, it may be found on ParentVue, a report card, or obtained by visiting your child's school with the proper identification. If the primary contact phone number is the same for all of your children, you may access all of your children's busing information from one log-in

Password

: Enter the Date Of Birth for your child, no spaces/dashes. Ex: A D.O.B. of 04/15/2019 would be entered as 04152019.
If you have any questions, please feel free to contact our office at 804-378-2475
Virginia Kindness Week
Throw kindness around like confetti! Feb. 13-19 is Virginia Kindness Week, and Feb. 14-20 is Random Acts of Kindness Week. The Virginia Department of Education offers ideas about how to spread kindness.  
Our sophomore class kicked off kindness week by collecting compliments from Midlo students to other Midlo students. Hundreds of "Compliment Candies" were distributed yesterday (2/14) during Midlo Morning.  
College & Career Planning
Start saving and planning for college now!
Each year our College Funding Coach Team partners with Midlothian's PTSO to teach our free workshop called "Little-Known Secrets of Paying for College". Parents who have attended our workshop in the past have expressed how useful and invaluable the information we share is, so we've always made sure to visit Midlothian each spring.
On Wednesday, March 9th at 6:30 P.M. we will be presenting our workshop in person at Midlothian High School. The workshop will run approximately 1 hour and 15 minutes. In order to attend the workshop, all you need to do is register using this link!
From the Career Center:
SAT Practice Week – February 14 – 18. Students who have recently taken the PSAT/NMSQT are encouraged to sign up for Official SAT Practice by sending scores to Khan Academy. Prep will be customized to student strengths/weaknesses – once the CollegeBoard and Khan Academy accounts are linked. Learn how to link accounts

HERE

.  

School Day SAT – Wednesday, March 23, 2022.  All juniors will take the SAT (free) during the day on 3/23.  More information will be shared closer to the scheduled date.

GRASP Advisor Appointments:  meet (in-person or virtually) with Cheryl Edlow, Midlothian's GRASP Advisor, to learn more about how to access sources of college funding, to assist with submission of the FAFSA, and to understand financial aid packaging. Schedule an appointment

HERE

.

John Tyler Community College Foundation Scholarships. Considering JTCC (soon to be called Brightpoint CC)?  Apply before April 15 for scholarship consideration – for new and current students.  Awards range from $500 to $4000 for the 2022-23 academic year.  Scholarship information and application found

HER

E

.

 
Club Picture Day
Thursday, February 24, 2022, will be club picture day in the main gym. Much like years past, the first 15 minutes of each class period and the entirety of Midlo Morning will be used to get the pictures done.
Athletic News:
Congratulations to the following Midlo Athletic Teams that competed in Region 5C Competition last week:
Wrestling, Boys Swim and Scholastic Bowl received the Region Runner-Up Trophy.  Congratulations.  You can check out our video announcements for individual recognitions (see above for that link).

Indoor Track had runners place in individual or relay events that will move on to the State Competition on Feb. 25-26, 2022

Debate had competitors who also competed and will send individuals on to the State Competition
Region Basketball will start this Friday. Complete pairing has not been set at this time. However, ALL tickets MUST be purchased on GoFan.co and NO CASH will be accepted at the door!
Spring Sports Tryouts will start on 2/21 or 2/22. Please have your child check with the coach if they are trying out. Students need to also pick up Tryout Cards this week in order to try out.  All Athletic Forms must be submitted online before tryouts and they can be found on our Athletic Website.
Black History Month
We are celebrating Black History month with the theme "Celebrating Representation, Identity, and Diversity!" During this time, we will celebrate and recognize the contributions that African Americans have made to our country. Friday's will be spirit days as we celebrate the culture! We ask that your student  wear the colors below on each Friday!
3rd (2/18) – Green

4th (2/25) – Black
For all things Black History related, check out the Black History Hub! bit.ly/midloblackhistoryhub
Mirror Me Program
The Mirror Me program aims to recruit and retain teachers of varied backgrounds by increasing the number of minority teachers and promoting the importance of the teaching profession.  To support this effort, CCPS has partnered with Virginia Commonwealth University (VCU) and Virginia State University (VSU)  to build pathways for students to pursue higher education in teacher-preparation programs and become teachers in Chesterfield County.
Current CCPS  juniors and seniors enrolled in their teacher-prep program are eligible to apply to be part of the Mirror Me program.  
All interested students, who meet the eligibility requirements, should complete the Mirror Me application, which can be accessed here.  The application asks for applicants' personal information, school information, transcript and a written statement.  Applications can be submitted electronically and are due by 11:59 P.M. , Friday, March 18, 2022.
Out of the loop? Check the Scoop!
Learn about new restaurants in the community such as Unplugged Games Cafe, the big win of Senior Night for girl's basketball, and catch up on this year's Winter Olympics. Never miss new episodes of our podcast, Trojan Talks.
Keep up to date with our Instagram – @MidloScoop
If you are interested in advertising in the Midlo Scoop, please contact Lisa Martin Hudgins at [email protected].
COVID-19 testing
You can order free in-home COVID-19 test kits from the U.S. Postal Service. There is a limit of one order per residential address; one order includes four individual rapid antigen COVID-19 tests. Fill in this form to order your tests.
To find an in-person testing location, go to the Chesterfield County COVID-19 response website.
COVID-19: updates on contact tracing, isolation periods and quarantines
On Thursday, Feb. 10, in collaboration with the Virginia Department of Health, Chesterfield Health District and Risk Management, updates were shared related to contact tracing, isolation periods and quarantines.
Updated FAQ documents for students and staff can be found on the COVID-19 guidance page.
The CCPS COVID-19 Helpline (804-639-6740) will be available to offer general information to parents who have questions about this guidance. Note: When calling the helpline, the caller will be prompted to leave a message, and someone will return the call during helpline hours in the order in which it is received. Calls will be returned Monday through Friday from 6-8 P.M., and from noon to 4 P.M. on Saturday and Sunday.
Covid Clinics
The Virginia Department of Health has a  vaccination clinic planned at Midlothian High School on Saturday, February 26th from 10 A.M. – 3 P.M.
COVID-19 vaccines are available at no cost to the public. Please note, you must register in advance. Click the school name for the full clinic flyer with QR codes for registration, or click on the vaccine you wish to get to go directly to the registration page.
Student Opportunities
The

Sorensen Institute for Political Leadership at UVA

is seeking students to apply for the High School Leaders Program. The program will be housed on the campus of UVA from July 9 – July 23. Additional information can be found

here

!

Check out this unique opportunity presented by the FBI's Richmond Field Office.  Juniors and seniors for the 2022-2023 school year are invited to apply to our Teen Academy to see first-hand the exciting work the FBI does.  Students will hear from special agents and intelligence analysts on topics including counterterrorism, cyber crime and civil rights and will participate in hands-on activities with our forensics evidence collection team and bomb techs.  Our recruitment team and college interns will be on-site to answer questions about career paths and future employment.





The Teen Academy is a free program that will be held at our office in Richmond on July 26 and 27.  The application is available now through March 4 at:

https://www.fbi.gov/contact-us/field-offices/richmond/community-outreach

.
Scheduling Update
Counselors continue meeting with juniors to discuss courses for next year and have conversations about post graduations plans. We are expected to start meeting with tenth grade students on February 14.

African American History is an honors level course that will be offered next year. Students in grades 10-12 are eligible to take the course. This is an excellent opportunity to learn about another culture and the many contributions African Americans have made to our country. For more information, view the video

here

.
PTSO News:
Post Prom Party Volunteers Needed!
Prom will be here before we know it! Help us help our kids to celebrate safely after they attend prom. Post Prom is scheduled for 4/23 from 11:30 P.M. – 2 A.M., located at the school.
We are looking for committee heads to run specific parts of the party. You may chair alone or with a favorite co-chair. We need chairs to; organize the food, coordinate the volunteers, organize the game set up and tear down, and to organize the set up and tear down of the event. We have contact information and previous chairs plans to help you out!
Please email Damien Dames [email protected] or Kristen Sanders Walton at [email protected] to volunteer.
Bravo Awards!
Do you know a Midlothian HS graduate who has gone on to achieve greatness or make a significant contribution in some form? If so, then please consider nominating a Midlothian alum to be recognized as a Bravo award winner.
A Bravo award is like the Oscars for Chesterfield County Public Schools, designed to recognize the best of the best among our graduates. Help me to recognize the amazing accomplishments of our graduates and add to the display of Bravo recipient banners along our main hallway by nominating a deserving Midlothian grad for this prestigious award.
We currently have the most Bravo Award recognitions in CCPS and I'm confident we will continue to do so.  Click here to submit your nomination.
CCPSOnline registration opens Feb. 1 for the 2022-23 school year and summer
CCPSOnline offers a comprehensive catalog of high school credit classes taught by Chesterfield County Public Schools teachers. Students can take one, two or all of their classes in a no-walls, no-bells, no-limits virtual environment. Part-time students take courses to free space in their schedule, access those not offered at their school or get ahead of graduation requirements. Full-time students leverage the flexibility of online learning to meet the unique needs of their lifestyle. Students should talk to their school counselor about including CCPSOnline in their schedule. Registration runs Feb. 1-April 29 for the 2022-23 school year and for summer 2022.
Attention all Student-Athletes – an important  message from your Athletic Trainer
Midlothian HS is going to begin the spring season with a new "Tryout Card" system in place. Please review the flyer for more information and pick-up dates for the 2022 spring season. This will be implemented next year for all seasons, so please take a look in order to be familiar with the expectations for next year. New dates will be communicated appropriately for future seasons. This will reduce coaches having to sign players up or players not having proper paperwork on the day of tryouts.
Online registration via: midlothian.rschoolteams.com is required for each athlete to try out for a sport. In addition to the required forms, each athlete MUST retrieve a tryout card to turn in to the coach on the first day of tryouts signifying they have all necessary paperwork turned in.
Spring Sports begin Feb 21, 2022
Nominate an outstanding teacher for an R.E.B. Award
Nominate outstanding #oneCCPS teachers for R.E.B. Awards for Teaching Excellence! The program is accepting nominations through 5 P.M. Feb. 22. About 15 outstanding central Virginia teachers are selected each year to receive amazing grants up to $15,000 to support professional development. Award winners have earned graduate degrees, climbed mountains, traced their ancestors and met peers from around the world — all to reignite their own passion for learning and to pass it on to their students. Eligibility requirements, deadlines and instructions can be found at www.cfrichmond.org/reb.
Course Selection – Counselor Meetings
Individual student scheduling meetings with students will start the week of January 24 and conclude March 11. At that time, counselors will discuss course selections for next year, graduation requirements and post graduation plans.
Attention Seniors!
2021-22 Graduation Ceremony
Mark your calendars for:  7 P.M. Monday, May 23, 2022 at the Siegel Center. More information to share as the date nears.
Scholarship Opportunity
Delta Chapter of Alpha Delta Kappa, is offering a $1,500 scholarship  to CCPS graduating seniors who are planning to pursue careers in the education profession. Information and application for the scholarship can be found here.
The criteria and student responsibilities are stated on the first page;  the second page is the application. The completed application must be received by  [email protected] no later than Tuesday, March 15, 2022. Any questions may be addressed to Donna Crane, at [email protected]. The application itself must be completed and submitted electronically.
Please click here (and check back frequently for updates) for updated scholarship information
Leave a Comment
About the Writers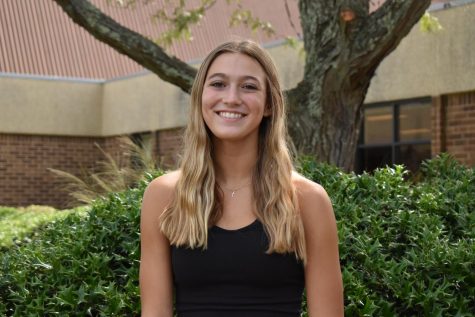 Lilly Moidel, Midlo Scoop Staff
Lilly Moidel, Class of 2024

Sophomore Lilly Moidel has been on staff for two years, and enjoys writing about sporting events, and stories that involve...