AP course survival guide
Tips for taking Advanced Placement Classes
Students are given the opportunity to take a variety of classes at the AP level throughout each of their four years at Midlo. Under the direction of College Board, a non-profit organization that aims to expand access to high level education, these classes are composed of college-level curriculum designed to not only challenge students' minds, but to also provide them with a chance to develop critical thinking and time management skills vital for the future. In return, colleges and universities grant course credit to students who obtain high scores on the end of the year exams.
While optional, taking AP classes provides a GPA boost for students and allows a glimpse into the future as to what they can except in college classes. Below is a list of helpful do's and dont's to help students succeed and get the most out of their AP classes.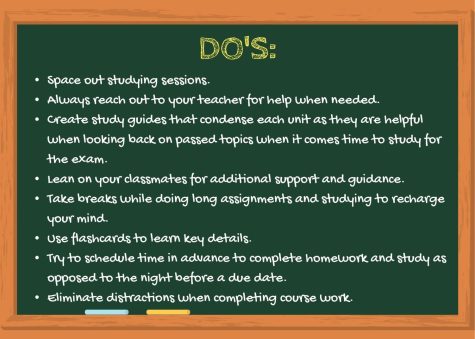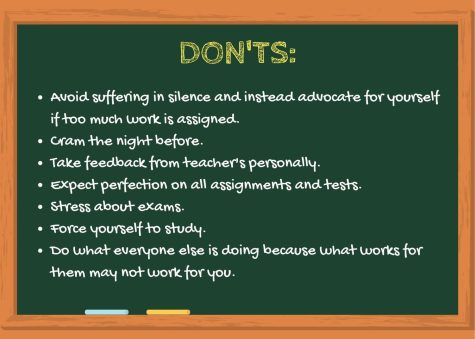 When asked about their experience and being in the AP environment, which courses they've taken, and some tips for succeeding in an AP course students had this to say: Senior Fletcher Tait has taken AP Psychology, Statistics, Environmental Science, and more. His advice is to "pay attention in class and do your homework." Junior Jackson Rosenberger has taken AP Computer Science and Psychology. He believes that AP "is worth the work and the time" and his advice for keeping afloat in an AP course is "just do the work."
---
Due to the high demand for rigorous courses, Midlo has lots of teachers are have become well-versed in AP course loads, so they have developed tips of their own as well from over the years.
MR. JAMES WILSON – AP World History and AP Human Geography
What are some good strategies for students to manage the heightened workload?
Students should break up the work over two sessions and make a plan of attack with regard to pacing and what they should understand, what they should "own" by the end of the session.
Being active and not passive is critical, holding themselves responsible for the content and crafting questions for what is still challenging.
Did you take any AP classes in high school?
I did. I took all the AP courses in English and Social Studies I could, but the culture was different then. The teacher was more of a content knowledge specialist and it was the students' responsibility to close the gap in their own knowledge and the teacher's. While I think we've lost some elements of AP courses in those days that were good, the current expectation of teachers teaching specific habits of mind for critical thinking most definitely was a needed development…and I like the challenge!
If you could change one thing about your course what would it be?
I would make AP World History a two-year course. The course asks quite a bit of the students in eight months.
What is the biggest mistake you see students making in your class?
I see some students facing the occasional disappointing result and internalizing it ("I'm just bad at this skill.") and not considering that strategies and course corrections are necessary to develop any skill. Hard work, resilience, and grit are worth more than easy talent in my classes – and, I believe, in life.
When should students start studying for the exam?
That's my job! If students have buy-in for the campaign we begin in August and do the work, they are doing the work of preparation.
MR. NICHOLAS KIRKBRIDE – AP Psychology 
What are some good strategies for students to manage the workload?
Keep up with assignments on their Canvas Calendar or add them to their cell phone calendar. Complete assignments the night they are assigned NOT the night before they are due
Did you take any AP classes in high school?
Yes, AP US & AP Government. Social Studies courses always came easy to me
If you could change one thing about your course what would it be?
The order of the chapters/units, I would put social psychology as a topic for MP1 (interesting topics, very relatable, lots of unethical experiments to help teach ethics by). Prior to COVID, I actually did this and taught the chapters out of order. However, one lesson AP teachers learned during the pandemic is that it is in the best interest of students to teach units in the order CollegeBoard views them so that if something gets cut due to a time constraint, no student will need to rush to learn something or already learned something that is no longer necessary.
What is the biggest mistake you see students making in your class?
Not every student recognizes the benefits of studying through application practice (as compared to not studying or simply re-reading through their notes) The best way to be successful in AP classes is to learn the material in a way that you can easily do application style questions/essays
When should students start studying for the exam?
Studying for the exam should begin with a certain mindset and that mindset should be in place no later than the end of MP1
The reason for this is that students need to really attempt to learn and grapple with the material the first time they are exposed to it, not just when we get to the review portion of the year. The sooner a student decides they are going to take the AP exam for a given course, the sooner they can begin approaching the course with more intentional focus.
If a student already has established the proper mindset, then they should reflect on what they have learned around the end of the first semester and start reviewing their material around spring break. Reflecting on the first semester allows a student to recognize their areas of weakness and strength.
Most AP teachers will be doing specific review opportunities in April and early May. Some do after-school sessions starting in March. Others designate classes in April for review, and nearly every AP teacher offers a mock AP exam
---
AP COURSES OFFERED AT MIDLO
Social Studies
World History Modern  

Human Geography 

US History

Art History

US Government
Science
Biology 

Calculus

Chemistry

Environmental Science

Physics

Psychology
English
English Lang & Comp

English Lit & Comp
Languages
Latin

German

Spanish

French
Math
Electives
3D Design

Computer Science

Graphics

Macroeconomics

Microeconomics

Music Theory

Studio Art
Though Art History is not currently offered at Midlo, if enough students express interest then it will be available next year. 
---
If interested in taking an AP class during the upcoming school year, visit CollegeBoard's AP Course Index, which offers detailed course descriptions. There are thirty-eight classes listed, twenty-five of which are actively offered here at Midlo. After looking over each of the courses, it is encouraged that students make a list of all classes that peak their interest, are in an area of strength or that may have been recommended by a former teacher for them to take. Then, when it comes time to schedule their classes for the 2022-2023 school year, students can take this list to their counselor. The counselors can then guide them in deciding which courses to ultimately take and find the best fit for them. 
Midlo School Counselors:
A–Ch: Mrs. Lawson
Ci – Har: Mr. Birmingham
Has – Mah: Mr. Erby
Mai – Ra: Mrs. Brady
Re – U: Ms. Harrison
V – Z:  Ms. Redding
IB students: Ms. Speller
Leave a Comment