Trojans Tailgate the Way to Victory
Senior Class Football Tailgate
On Friday, September 23rd, the Midlothian High School senior class gathered for the first tailgate of the year before the football team kicked off against George Wythe. Senior Class Historian Alexa Battle, who helped organize the tailgate, notes, "We killed the turnout this year- it was much better than years past." Chick-Fil-A catered the event, which sparked student excitement as they mingled with classmates in activities, such as cornhole and soccer. Before the game, seniors had the opportunity to paint-up for the White Out. Body paint designs ranged from handprints to football player numbers to eye black. Robert Marker and Hunter Lemon exclaim they had a "heck of a good time." The tailgate provided a great way for seniors to kick off their last year as Trojans.
Midlo cheerleaders welcomed the Midlothian Athletic Association cheer squad for the annual MAA night. The flag, minor, and junior level recreational cheerleaders ranged from all elementary school grades. These cheerleaders paired up with Varsity cheerleaders to cheer on the Trojans. "I always have a blast getting to cheer with the MAA girls," says Apryl Bradt, "Their energy is contagious, which makes it super fun for us."
After last week's disappointing upset against Cosby, the Trojans looked for a win on home turf. Midlo quickly pulled ahead of the Bulldogs, outplaying them on both offense and defense. The Trojans scored 5 touchdowns, one by Jermani Brown and two by both Jack Swope and John Jennings. Midlothian captured its first win of the season and hope this stamina will last the remainder of the season. Senior Joey Doherty explains, "We did a lot of good things, but we still have room for improvement." The Trojans continue to show promise for the 2016 football season as they work their way to end, looking better than they have in years.
About the Writer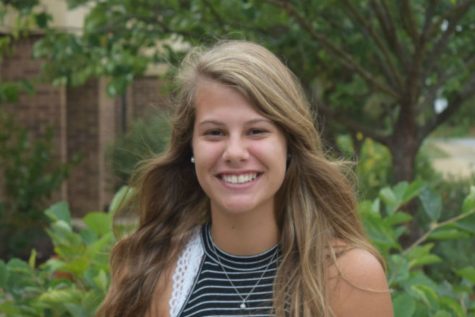 Sydney Van Horn, Midlo Scoop Staff
Sydney Van Horn, Class of 2017