Midlo Girls XC named runner-up at states
VHSL Region 5A Cross Country State Championships
On April 23, 2021, the Midlo's Girls Cross Country team toed the starting line at the Historic Oatlands Plantation in Loudoun County, Virginia for the VHSL Class 5A Cross Country State Championships. Normally taking place in November at Great Meadows, the condensed VHSL season met a switch in venues for the spring competition. The new course brought forth unforgiving hills and two creek crossings, but the biggest difference of all in comparison to past meets was the weather. While cross country athletes typically compete in the cool temperatures of fall, the spring championship took place in a humid 60 degrees with an abundance of pollen in the air, representing more obstacles for the runners to face.
The girls' entered the Cross Country State meet coming off of an impressive VHSL Region 5B Cross Country Championship title, while also having won the Indoor Track State Championship a few months prior that included a number of the same athletes. With their previous accomplishments fresh in their minds, the girls were in a prime position to place at this event as well. At 1:00 p.m., the starting gun sounded and the Girls Varsity team sprinted off the line alongside some of the best runners in the state. Midlo's team consisted of Gabriella Garcia, Caroline Bowe, Nicole Quiram, Kylie Bonser, Ally Marmo, Chloe Martin and Katherine Krievs.
Throughout the race, Garcia and Bowe worked their way through the crowd of runners, leading the pack for the majority of the event. The rest of the girls followed close behind using every bit of energy that they had. Garcia battled until the end, ultimately finishing in third place with Bowe in sixth. Both of the athlete's placements earned them all-state honors, a highly coveted award. Shortly after, the rest of the girls made their way to the finish line as Quiram and Bonser worked together to place seventh and ninteenth respectively. Seniors Marmo, Martin and Krievs rounded out the team finishing in 28th, 29th and 32nd. Despite not receiving the overall outcome that they had all hoped for, "I feel the team did well even though we didn't get the outcome we wanted. We all worked so hard this past season, and being able to all race together was an amazing experience," junior Gabriella Garcia said. She is proud of the second-place finish after a challenging year and knows she will remember this race forever given the "painful and hilly" course. Senior and team captain Caroline Bowe agrees, explaining she is "so proud of each of [her] teammates!"
The Midlo girls' earned the title of VHSL Class 5A State Runner-Up Team, now their second one in the past two years. As for individual accomplishments, both Garcia and Bowe made the all-state team. However, the team's efforts do not end here as many of the girls will continue their training for the outdoor track season.
Leave a Comment
About the Contributor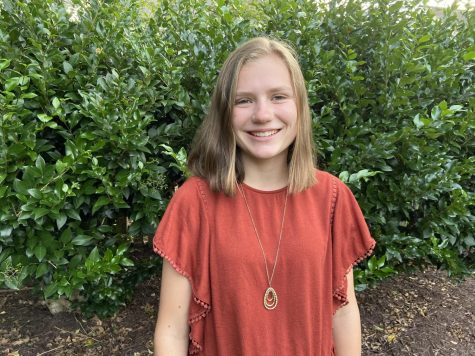 Nicole Quiram, Midlo Scoop Staff
Nicole Quiram, Class of 2022