Leeper commits to Eastern Mennonite Blue Lions
Gabrielle Leeper commits to Eastern Mennonite University
After filling the role of her older sister's pepper partner, Gabrielle Leeper officially committed to Eastern Mennonite University on April 14, 2021, to play on the women's volleyball team. Five years ago, Leeper began playing club volleyball at Richmond Volleyball Club (RVC) and continued to play all four years of her high school career.  In addition, she participated on both the Midlothian JV and Varsity teams for two years.
During her freshman year, she decided to try out for the high school team, ultimately succeeding. During the span of her high school volleyball career, Leeper has had multiple coaches to help guide her to where she is today. "My first high school coach was Coach Lauren, she taught me that doing what you've been told comes first, whatever coach asked of you, you do it. My second coach was Drew Davis, he was also my English teacher. He taught me that it's ok to make mistakes; just have fun but stay focused. My last high school coach was Sherman Chung. He has taught me so much through the years, constantly taking me under his wing and answering/correcting anything I have asked about. His most important lesson would have to be staying calm but being aggressive." Inspiration has not only come from her coaches but also from her teammates, who make each game a new experience.
As a child, Leeper set the goal to one day take part in a national team. This year, her hard work paid off, and dreams became a reality when she earned a spot on the 18 National Team at RVC. "My top accomplishment would have to be making 18 nationals. For years as a kid I dreamed to be on nationals but never got the chance until this year." This year marks the fifth year Leeper has participated on a club team. During her time in club and high school volleyball, she has been a setter, libero, and outside hitter.  As she joins the Blue Lions, she will fill the role of an outside hitter, her current role for both RVC and Midlo.
As for her college decision, Eastern Mennonite gives Leeper the chance to pursue her career path in dermatology. At EMU, she plans to major in pre-medical, and minor in biology. "I chose Eastern Mennonite University because it was a D3 school, close, but far enough from home and where I can continue my volleyball and medical career." As far as becoming an official collegiate volleyball player, Leeper hopes to be a "hard-working teammate and someone future players can look up to."
Congratulations, Gabrielle Leeper!
Leave a Comment
About the Contributor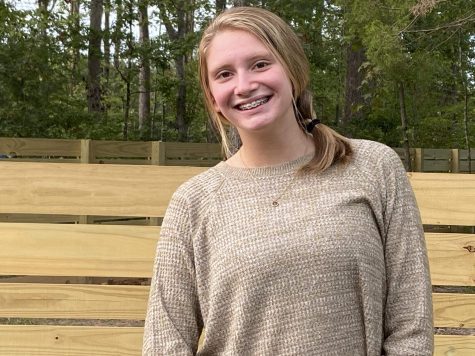 Reagan McAdams, Midlo Scoop Staff
Reagan McAdams, Class of 2023