Midlo girls volleyball finishes undefeated in regular season
Girls Volleyball Regionals 2021
Following a win over Matoaca Warriors  in the first round of the Regional Tournament, the Midlothian Trojans took on the Atlee Raiders, in the semi-final match.  Earlier in the week, the Raiders defeated Deep Run High School, leading to their placement in the semi-final match. Both the Raiders and Lady Trojans entered the tournament with an undefeated record.
The Trojans started the game with a strong understanding of the skill of the Raiders.  During the first set, the game remained close and stayed that way for the entirety of the set. There were many lead changes between the two, with only one or two points, separating the teams. Players Diana Wesolosky, Bri Leeper, Grace Graviet, and Sara Rich, kept the Trojans within reach of the first set victory.  After a tough last few points, the Raiders came out on top, with a score of 26-24.  Looking to come out victorious in the second set, the Trojans adjusted their game plan and regrouped. Unable to shake the Raiders, the Trojans lost the second set, 25-9.  
Needing to win the third set in order to have a chance to take home the win and advance, Midlo rallied together, playing a solid offensive and defensive third set. The set remained close for the  duration, but the Trojans were able to shut down the Raiders and secure a third set win, 25-23. With a goal to take Atlee to a fifth set, Midlo carried their momentum from the third set win, into the fourth set.  After having the lead for a majority of the fourth set, the Raiders made a few consecutive well-executed plans, to ultimately win the fourth set 25-21, and take home the semi-final win, 3-1.
Though the Lady Trojans had their season cut short, they still had an impressive run this season.  They finished with a regular season record of 9-0, and the #1 seed in the regional tournament.  Of the nine seniors the team, Wesolosky and Leeper will move on to play in college.  Wesolosky will take part in the program at Kentucky Wesleyan College in Kentucky, and Leeper with Eastern Mennonite University, located in Harrisonburg, Virginia.  When asked about the overall season, junior Ashley Sowers said, "this season we went undefeated despite the circumstances.  We had such a big team and we all worked together so well.  I'm sure I can speak for all the girls when I say that we hope that all nine of our seniors have a good time in college and come back to see us next year!" 
Congratulations to this year's team, and good luck to all seniors, with their future plans.
Leave a Comment
About the Contributor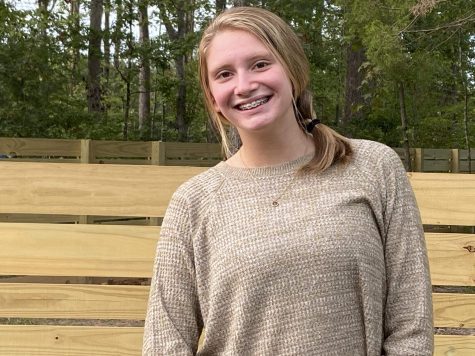 Reagan McAdams, Midlo Scoop Staff
Reagan McAdams, Class of 2023