Greatness in Gregory
Senior Volleyball Player Tyler Gregory Has Bright Future on and off the Court
Reaching the state tournament exists as a goal for any high school sports team. Whether that goal is unlikely or an annual occurrence, achieving it is always satisfying for everyone involved. Midlothian's volleyball team knows this feeling, as they have reached the state tournament each of the last 3 years, most notably in 2014 when Midlothian beat Hanover in a 5 set thriller at the Siegel Center, marking the first ever 4A Volleyball title for the Trojans. As the 2016 year gets underway, star setter Tyler Gregory and the rest of the Midlothian team look to repeat the success created in recent years.
Gregory, a 6'1 senior, has contributed to the team's success the past. In 2014, Coach Randy Cox in his first year as head coach brought Gregory up from the junior varsity squad. He received only a little playing time on their run to the title, but as a sophomore at the time, learning the game and watching it at a high level helped him nonetheless. In his junior season, he worked with All-Metro Player of the Year Nick Spichiger as they developed a chemistry that flourished all the way to yet another state title game against Colonial Heights. Now in his senior year, Gregory is working with a new group of young talent, which will surely challenge him in ways he has yet to experience as a volleyball player.
The beginning of the season has come with difficulties for the Trojans, as they have found trouble finding wins against some of the area's toughest competition. The second half of the season brings easier opponents that will provide the chance to boost their record and gain some momentum before the conference tournament. When asked about his goals for this season, Gregory responded, "I'm hoping we return to the state tournament, and if I play well, earn FIrst-Team All-Conference honors."
In his free time, he enjoys shooting basketball with his friends, along with playing board games with his family. Gregory is also very involved in his church, as he leads in musical instruction every Sunday in front of the entire church congregation. After this volleyball season, he also plans to play his fourth year of high school basketball with the Trojans.
The future looks bright for Gregory, as he hopes to attend Brigham Young University for a year then take a two year church mission for the LDS church. His high aspirations and athleticism will surely propel him through this volleyball season into an exciting future full of great potential.
About the Writer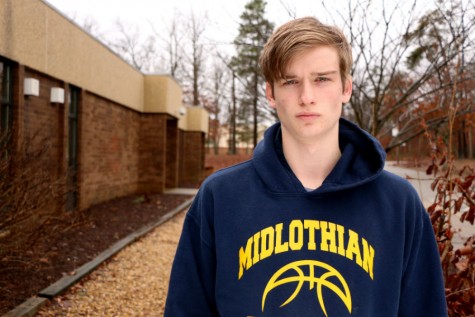 Lucas Via, Sports Editor
Lucas Via, Sports, Class of 2017