Six apps for a healthier lifestyle
Productive apps for iPhones
As the weather warms up and spring comes rolling around the corner, people begin thinking about transforming not only their homes and wardrobes but even their habits.  Along with organizing closets and washing windows, springtime is a great opportunity for students and educators alike to adjust phone patterns. In today's age, most people spend numerous hours on their phone every day, therefore, it's important to have a phone environment that enforces healthy habits for day-to-day life. There are many apps that can be used to relieve stress and block disruptions. Here are six iPhone apps to support wellness and increase productivity.           
---
Language learning has never been easier or more fun. With over 35 different languages, Duolingo is a free app that can expand foreign language knowledge and assist students with studying for their language. "I definitely think it helps to review before a test or a quiz. My students use the version on the computer, but the app is also a good resource," Spanish teacher Ms. Jessica Green said. By using a mixture of listening, writing, speaking, and reading, Duolingo expands on all types of language-learning skills.                    
---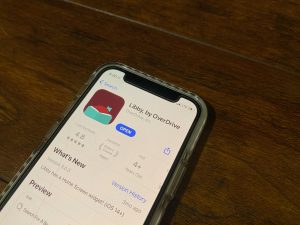 Libby collaborates with the Chesterfield County Public Library to offer thousands of ebooks to the Midlothian community for free! By syncing a CCPL card to the app, users can read, put books on hold, and listen to audiobooks all from the comfort of their home. For users with a Kindle, Libby will send the books straight to the e-reader, or readers can also peruse stories right from the app. Libby provides readers with "a guide to reading happiness."
---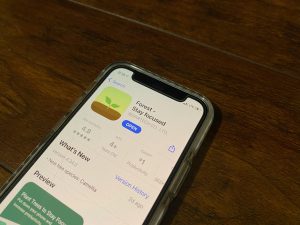 This phone app costs $1.99, but has 4.8 stars and is Apple's number one productivity app. By turning focus into a game, Forest helps beat phone addictions. Users plant a tree and are forced to stay off their phone for a set amount of time, otherwise the tree dies. As users grow their forest and productivity together, they can buy new trees and expand their woodlands. Not only has Forest made monumental steps in helping to cure phone addictions, they even help the environment by planting real trees! For 2,500 coins, which users earn while staying off their phone, they can buy an actual tree from Forest's partner, Trees for the Future, who will plant it for them. So far the Forest app has planted over 1 million trees in Africa, making a real forest.            
---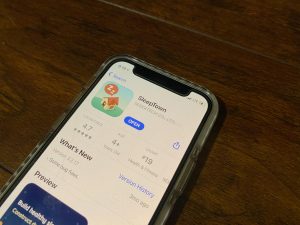 This app, by the creator of Forest, helps create healthy sleep habits is available from the AppStore for $1.99. SleepTown users set the time they want to go to bed and wake up; if they succeed with their goal, they earn a building. It converts unhealthy sleep patterns into a rewarding game. To build grander buildings, users can even collaborate and create circles with their friends that have similar sleep goals. If users use their phone during their scheduled sleep time, their building will collapse. But, if they continue to follow through with their sleep schedule, they can receive surprise rewards, while avoiding staying up too late. 
---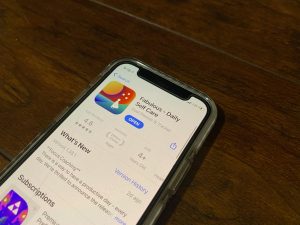 This goal planner and tracking app, Fabulous, has won Apple's Editors' Choice award for its "easygoing approach to self-improvement." Fabulous uses behavioral science to help users achieve their goals and ultimately evolve their life. The app has a free version, but for $3.33 a month, users can become members and have access to a more personalized routine. Filled with life-changing challenges and motivational graphics, this app transforms the user's lifestyle by making them more productive and focused. To start off, it gives users a short questionnaire about themselves and uses this information to produce a personalized plan. At first, it gives a three-day task to add to their morning routine and gives motivational letters along the way. As users progress on their journey to being Fabulous, they experience harder and longer tasks, which are even more valuable. 
---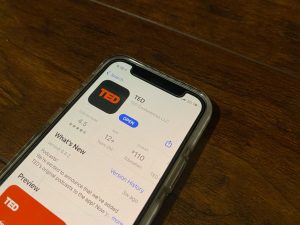 Looking for ways to have a better conversation, or want to hear what Bill Gates said in 2014 about the next global outbreak? The nonprofit, Technology Environmental and Design commits to sharing ideas across the world about a wide variety of topics. While attending a TEDx event (where people can watch TED Talks live) can cost thousands of dollars, viewers can watch TEDtalks for free on the TED app. Users receive personalized suggestions and expand their minds by watching a wide variety of TED Talks at their convenience. TED gives recommended videos, offers podcasts, and allows downloads so users can access all the "ideas worth spreading" offline. TEDtalks offers inquisitive souls a great, free option to learn more.
---
Looking for apps to play with friends? Check out Psych! Students can still play games with friends while social distancing.
About the Contributor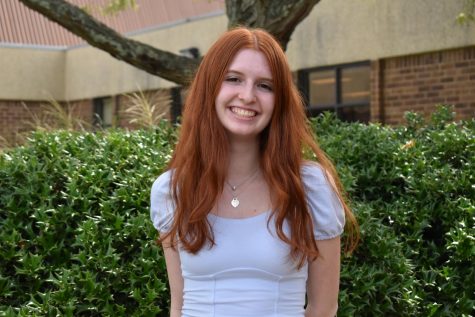 Quinn Downing, Editor-in-Chief
Quinn Downing, Editor-in-Chief, Class of 2023