Unique perspectives during an unprecedented school year
Freshman and Senior years are altered due to new learning environment
During a school year unlike any other, students of all grade levels have struggled to stay motivated and engaged in an altered school setting. With the second semester in full swing, students find themselves tired of the routine of logging onto a Google Meet or applying their mask to walk the halls of Midlo. While this year's changes have only enhanced the typical second semester burnout, it seems especially apparent amongst the senior class who nears the finish line of their high school careers. This lack of motivation throughout the senior class, commonly known as "Senioritis", has undeniably affected the class of 2021, as a majority of their last year has been spent at home. As for the school's newcomers, freshmen generally experience some adjustment period at the beginning of the year but expect to get into the flow of the school within the first month. However, since all learning has been virtual until now, some members of the class of 2024 remain intimidated and uncertain about how to navigate high school. Therefore, both of these different, yet important high school classes have a unique set of troubles that they have exclusively faced.
To start, the class of 2024 is the only class in Midlo history to have started their first day of high school in an all-virtual environment. In previous years, freshmen got their very own orientation day before the upperclassmen returned to the hallways, as well as a set of sidekicks assigned to their homeroom classes to help ease their transition. This year's freshmen were thrown into the mix without a guidebook on how to navigate a brand new playing field, let alone an online one. Not to mention, the first day of high school usually sets the tone for the rest of a student's experience, representing important moments that they will look back on. As for freshman Natalie Orr, she was unsure of what to expect for her first online school day and found herself "missing the excitement of seeing all her friends" when returning after the summer break. "This year's first day wasn't as exciting because I couldn't see everyone in my classes, so it was super awkward over the screen," Oor said.
For both new and returning students, the sports seasons being postponed to the later months of the school year was also a challenge when trying to identify a social outlet. Not being able to experience pep rallies, school dances or rival football games left only the academic side of school to be experienced. This caused many freshmen to get the wrong idea about the overall atmosphere of Midlo. "I really feel like I'm missing out on the cooler parts of the school by not being able to attend pep rallies or school dances. That is a really big part of high school that I haven't been able to participate in yet because of the pandemic," freshman Ava Lawrence said. This issue is also devastating to seniors who will not be able to take part in the last of their high school traditions. The highly anticipated event of prom is up in the air as well. "This year I took a lighter load and a reduced schedule so I could work more and also be less stressed," senior Maddie Aird said about her scheduling strategy for her final year. With the past months not including fun-filled activities or a warm welcome, all grade levels alike have felt that the only thing they have to appreciate and look forward to their studies, which may contribute to higher levels of stress due to the lack of extracurriculars and school spirited events.
Fortunately for both the senior and freshman class, they have exciting futures still laying ahead of them. Eventually, the light at the end of the tunnel will come, and with it, encouragement and motivation to keep students going during these difficult times.
About the Contributor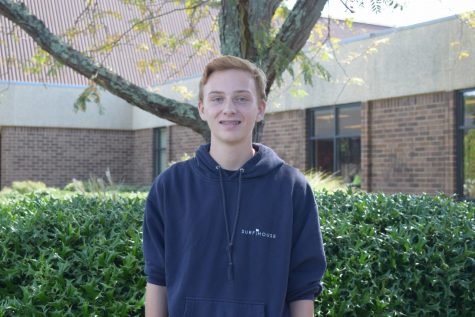 James Galloway, Midlo Scoop Staff
James Galloway, Class of 2023