Midlo Yearbook officially schedules Picture Day
2021 School Portrait Information
Picture Day is coming to the Midlo community a little later than normal this year. What would have typically taken place within the first weeks of the school year has now been scheduled for Wednesday, March 17, 2021. In providing an opportunity for both in-person underclassmen and faculty, as well as virtual learners to have their portrait taken, the school has worked to set aside designated times throughout the day to ensure a seamless and safe process. While students attending face-to-face instruction will have their picture taken during the school day, those remaining in a distanced learning environment are to go to the atrium of the main gym located at the back of the building between 3:30 and 5:30 p.m, masks required. However, all virtual students are to sign-up for an appointment window using the provided link prior to their arrival.
The same day also acts as a last call for all seniors to have their senior portraits taken by Candid Color in order to be included in the 2020-2021 yearbook. Those attending classes in-person are scheduled to have their picture taken from 8:30 a.m. until 12:30 p.m., while virtual learners are to come to the 3:30 to 5:30 p.m. slot after they have made an appointment, which will then prompt users to download a waiver that they must bring with them. Please note that the senior's yearbook pose will be different from prior years as the traditional tuxedo and drape will not be available at this session. Therefore, students are asked to bring solid color attire. Additionally, a $20 sitting fee is required to have senior portraits taken at this time, so students must arrive with a check payable to Candid Color.
In-Person Portrait Schedule:
8:30 to 8:50 a.m. – All ODD Day Tech Center Students / Last names beginning with A
8:50 to 9:10 a.m. – Last names beginning with B
9:10 to 9:30 a.m. – Last names C-D
9:30 to 9:45 a.m. – Last names E-G
9:50 to 10:10 a.m. – Last names H-J
10:10 to 10:30 a.m. – Last names K-L
10:30 to 10:50 a.m. – Last name M
10:50 to 11:10 a.m. – Last names N-R
11:15 to 11:35 a.m. – Last name S
11:35 to 11:55 a.m. – Last name T-V
11:55 a.m. to 12:15 p.m. – Last names W-Z
12:15 to 12:30 p.m. – Makeup for any student who missed their assigned slot
2:30 to 3:30 p.m. – All Faculty & Staff
Leave a Comment
About the Contributor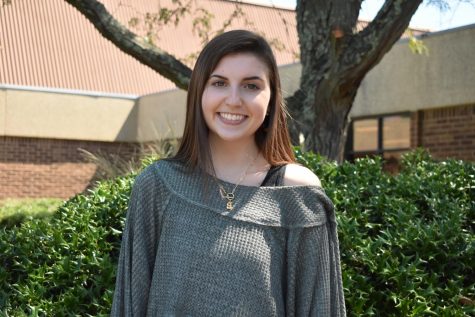 Bridget Tracy, Editor-in-Chief
Bridget Tracy, Editor-in-Chief, Class of 2022

Senior Bridget Tracy has been on staff for three years, and continues to write high-interest articles,...