Midlothian Fights Cosby in a High Scoring Thriller
Midlothian Varsity Football
On September 15, 2016, dozens of spirited Midlo students traveled to Cosby High School to cheer on the Varsity football team. The Trojans kept fans on their toes during every play, showing improvement on both offense and defense.
After trailing 8-6 at halftime, Midlo relentlessly pressured the Titans. The Trojans continued to score in the third and fourth quarters, making it a 21-20 game. With two minutes left and possession of the ball, Midlo battled through but were unable to convert on the fourth down. The two and a half hour game was neck and neck, but in the end, Midlo fell to the Titans with a final score of 34-20. Mac Whitten notes, "We have a new mentality after this game, and we're all ready to get back on the field next Friday night."
Quarterback Kyle Daniluk proved once again to be a vital asset for the Trojans, gaining 346 years, as well as throwing three touchdown passes. Junior Casey Joyce dominated offense with 119 yards, eight tackles, and five catches- one, scoring the first touchdown for the Trojans. A hard hit to Joyce by the Titan's defense in the fourth quarter looked like trouble, but #22's determination did not let that keep him out out the game. Wide receiver Joey Doherty Jr., who gained 96 yards with three catches and two touchdowns, also backed Midlo's offense, while sophomore Brayden Staib carried defense with ten tackles.
Director of Field Operations Bryce Mann says the game showed promise, and the team is working hard to see what they can put into the next game. Midlothian football definitely set the tone for the rest of the season and sent a message about their new level of competitiveness: their goal is to win.
About the Writer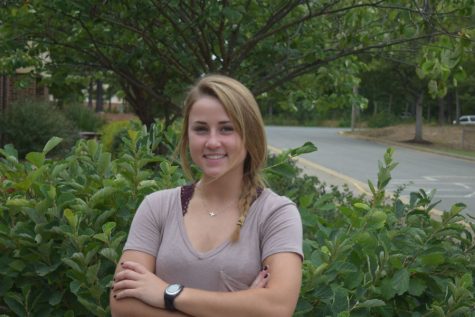 Lara Ann Douglas, Staff Writer
Lara Ann Douglas, Class of 2017