Grizzard verbally commits to Louisville University
Pitcher Cassie Grizzard makes plans to play at the Division I level for Louisville
On September 27, 2020, junior Cassie Grizzard verbally committed to continue her love of softball at the University of Louisville. Grizzard initially got into softball around the age of six, because at the time her sister played softball. "I decided to start softball when I did because my older sister, Kelsey, was playing and I idolized her and wanted to be just like her," Grizzard said.
Grizzard primarily pitches, but on occasion will play first base. When she committed to Louisville, Grizzard was playing for the Hanover Hornets travel team. She has also been on the Midlo softball team since the eighth grade. "My family has greatly impacted and influenced me to be the best player on and off the field," Grizzard said. "The one person that has been the most influential is my dad. The amount of countless hours he has spent at the field helping me improve my game means the world to me." One of Grizzard's favorite memories with her Midlothian team was the time the team had the opportunity to travel to the new University of Virginia softball stadium. "I enjoyed this time with the team because we got to bond outside of playing on the softball field while watching the University of Virginia play James Madison University," Grizzard said. 
Due to COVID-19, the recruitment process looked a little different this year, but it was still exhausting since it held the same amount of weight on her future. Grizzard was not allowed to talk to recruiting coaches until September 1 of her junior year, but once she began talking to coaches, each one had a new and exciting plan to help her further her athletic endeavors. "With not being able to talk to coaches until September, I had to realize that I worked hard to be where I am, and I had to trust the process," Grizzard said.
In addition to touring the campuses of schools where she had received offers, Grizzard also met with each coach through Zoom. "I chose the University of Louisville because I walked onto campus and fell in love. I knew at that moment that is where I wanted to go to college. I had talked to the coaches a couple of times before my visit, and I gained a great relationship with them through zoom meetings," Grizzard said. Ultimately, she looks forward to her future as a Cardinal, excited to continue playing the sport she loves at the Division I level. 
Congratulations, Cassie!
Leave a Comment
About the Contributor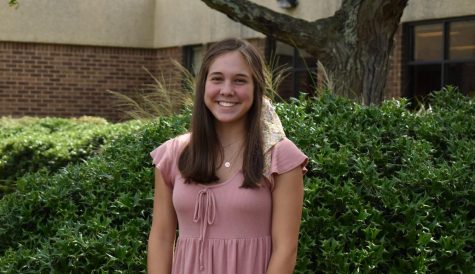 Lauren Cassano, Photo Editor
Lauren Cassano, Class of 2022

This year, senior Lauren Cassano is celebrating her fourth year on staff.  She is Midlo Scoop's designated photographer,...