Hanukkah begins the holiday season
Midlo celebrates Hanukkah 2020
The Festival of Lights, commonly known as Hanukkah, started as the sun set on Thursday, December 10, 2020, and lasts until Friday, December 18. Hanukkah represents religious freedom for Jews and is filled with eight days of lighting candles, giving gifts and playing traditional games. On each night of Hanukkah, participants light a menorah, adding one candle each day to celebrate. The menorah holds nine candles, with eight candles representing the eight nights of Hanukkah and one candle called the Shamash. The Shamash lights the other candles each night from left to right on the menorah. 
In 200 B.C., a group of rebels, known as the Maccabees, fought against a ruling that banned the study of the Torah and practicing Judaism. While fighting in a temple, the Maccabees lit the "ner tamid," a light that hangs in every temple, with one jar of oil. This jar was only expected to last one day but miraculously lasted eight. The story of Hanukkah does not appear in the Torah but instead appears in the Books of Maccabees. 
On the Hebrew calendar, which corresponds with the Lunar calendar, Hanukkah always falls on the 25th of Kislev, the third month of the Hebrew year. However, on the Gregorian calendar, which is used in the United States, Hanukkah starts on a different day in either November or December. When translated, Hanukkah has many different spellings, such as Chanukah, because the Hebrew alphabet consists of different letters than the Latin alphabet. Originally, Hanukkah was transliterated with a "ch" but later became an "h" since this corresponded more closely to the pronunciation of the Hebrew word. 
Several Midlo students look forward to the celebration of Hanukkah each year. Sophomore Avery Belisle said, "I love making sufganiyot during Hanukkah, especially when I get to make them with my friends. I look forward to them all year. They're basically deep-fried jelly doughnuts."Another traditional Hanukkah food is latkes, potato pancakes that are cooked in oil, which serve as a reminder of the miracle that the Maccabees experienced. "My favorite part of Chanukah is spending time with family. On the first night, we always make latkes with a traditional meal, light the menorah and play a little dreidel before exchanging gifts," senior Taylor Bennett said. For eight nights, the Jewish community from all over the world gathers and eats traditional Hebrew foods to commemorate the freedom to practice Judaism. 
For more information about Hanukkah, visit History.com or Britannica. 
About the Contributor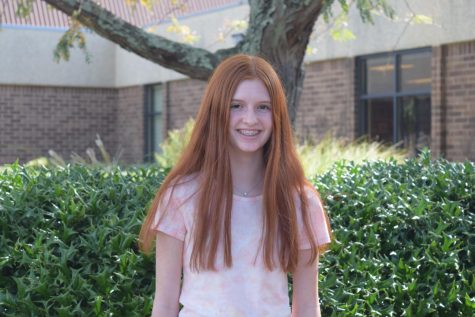 Quinn Downing, Midlo Scoop Staff
Quinn Downing, Class of 2023