Midlo XC closes season at Nike Regionals
2019 Southeast Nike Cross Regionals
On November 30, 2019, Midlo's Cross Country team competed in the Southeast Nike Cross Regional (NXR) race at WakeMed Soccer Park in Cary, North Carolina. This competition closed the long cross country season that, for some runners, began in June of 2019. Throughout the season, these athletes worked together and pushed one another to reach new heights, forming irreplaceable bonds. During the meet, runners braved constant rain, ruthless hills, and the fiercest competition imaginable. Despite these challenges, many athletes set new personal records and finished the season with memories that will last a lifetime.
Although Midlo did not send its Varsity Boys team, individuals Brian Tavenner and Will Gardner competed in the Boys Open Invitational Race at NXR. Following impressive showings at both the regional and state levels, these two athletes entered the race in hopes of running their fastest time of the season. Since the Boys Open Invitational had 436 runners, the race split into two heats, so Tavenner and Gardner ran in separate races; first, Tavenner ran, and he gave it his all, finishing in fourteenth place overall with a personal best time of 16:25. Then, Gardner raced, and he finished in sixth place with a personal best time of 16:16. At the awards ceremony, both Tavenner and Gardner earned free "Nike Top 21" t-shirts for their efforts.
Following their runner-up finish at the VHSL 5A State Championship meet, the Midlo Varsity girls went into NXR hungry to make others aware of their strength and overall depth. At 11:50 pm, the starting gun sounded, and the Midlo Varsity Girls began their twenty-minute endeavor. The team consisted of: Gabriella Garcia, Caroline Bowe, Kylie Bonser, Katherine Krievs, Nicole Quiram, Lena Caffall, and Annabel Schepker. As the runners began the first mile, Garcia, Bowe, and Bonser progressed rapidly through the pack of runners, setting themselves up for an impressive race. Close behind, Krievs, Caffall, and Quiram worked together to fight for every position in the 239-runner field. As the finishing line approached, Garcia ran her best time yet, finishing the race in nineteenth place, making the NXR Third Team and earning a free "Nike Third Team" t-shirt. Next, Bowe and Bonser ran very respectable races, finishing in forty-second and fifty-seventh place; both of these athletes crossed the line with sub-19:00 times. Next came Krievs in 109th, followed by Caffall in 135th and Quiram in 140th, all running personal records. Rounding out the team, Schepker crossed the line in 161st place. The combined efforts of these athletes resulted in the Midlo Varsity Girls finishing tenth in the team competition, earning a plaque for Midlo.
After a long season of hundreds of miles, countless hills, and exciting victories, many of these athletes will continue their running careers on Midlo's Indoor Track & Field team during the winter season. 
About the Contributor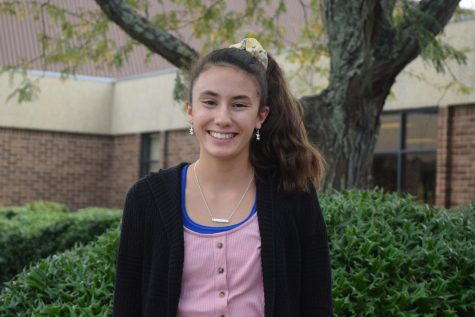 Katherine Krievs, Editor-in-Chief
Katherine Krievs, Editor-in Chief, Class of 2021