Field Hockey Takes on States
2018 Field Hockey State Tournament
On Tuesday, November 6, and Friday November 9, 2018, Midlo Field Hockey's unstoppable season rolledint o the State Tournament. Fresh off their 4B Regional win over Warhill High School, Midlo carried on into the State Tournament fired up by their winning streak and fueled with the hope to make it far.
Because they took the title of Regional Champions, Midlo hosted the States Quarterfinals on November 6. At 5:30 p.m, Midlo got into the mindset that they would dominate the game against Deep Creek. The team executed just that with goals from senior Megan Wunderlich and sophomore Riley Martin. Throughout the game, Midlo utilized its valuable team chemistry to pull together and rise above the competition. In doing so, they kept the ball on their offensive side and gained a significant amount of offensive corners. In the end, Midlo proved victorious, with the score of 2-0. This determined that the team would advance to the State Semifinals, the first time doing so in the history of Midlo Field Hockey.
On Friday November 9, the athletes took a day off from school, departing at 7:00 a.m to travel to compete at South County High School. The Semifinal playoffs took place on turf, resulting in fast ball movement and quick gameplay. The cold and rainy weather couldn't hold Midlothian back, as they took the field at 11:30 a.m. to rival the Chancellor High School Chargers. As the whistle blew to start the game, each team immediately brought the intensity. Chancellor proved to be offensively heavy, resulting in a defensive game for Midlo. Because of this, by the end of the half, the Chargers scored 2 goals on the Trojans. After regrouping during half time, Midlo responded by coming out even stronger and only allowing one goal in the second half. As the clock ticked down, the Trojans remained energetic and kept up the pressure. Midlo hustled and played a strong game, but ultimately fell to the Chargers 3-0.
Even after the loss, Midlo Field Hockey feels proud to have made history by making it into the top four teams in the State Tournament. This feat has the team excited for the opportunities to come in the next season. Captain Zoe Hammond states, "I have played for Midlo for five years now and to have been able to make it to States my last year was amazing. I'm so proud of my team for never giving up and playing their hearts out. As a team we broke Midlothian High School history, and I wouldn't have wanted to do it with any other team!"
About the Contributor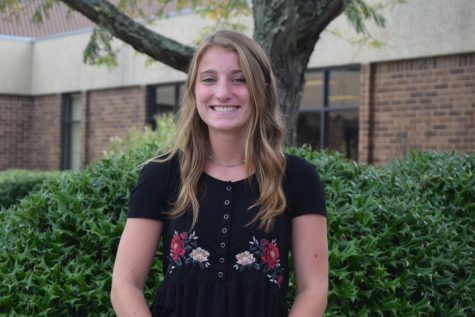 Maddie Burke, Copy Editor
Maddie Burke, Class of 2021