Midlo Boys Volleyball Commemorates Seniors
Midlothian Boys Volleyball Senior Night 2017
On October 26, 2017, seniors on the Varsity Midlothian Boys Volleyball team shined brightly during their extraordinary senior night. At 6:45 pm, the activities embarked, and promptly after, a match against the fierce L.C. Bird Skyhawks occurred. The gym overflowed with a mix of emotions, for most of the seniors have played for the team since freshman year. Senior Kenny Harbula has played on the team for four years and has watched his siblings play for thirteen years. 
The festivities began with each senior linking arms with their family members and marching through a human tunnel, created by the Midlothian JV Boys Volleyball team. As each family walked, an announcer gave a biography about each athlete, including the highlights of their athletic career, their academic career, and their plans for the future. Senior athletes Adam Wajciechowski, Joshua Protacio, Kenny Harbula, Tristan Hutchins, Finlay Raphael, and Tyler Dowdy jumped enthusiastically during the celebration. Managers for the Boys Varsity Volleyball Team, Eva Johnson and Ashlyn Ferguson, gracefully saundered through the tunnel, while the boys hollered and clapped for them. After every senior athlete received recognition, the boys began their warm up, preparing to compete against the formidable Skyhawks.
The upbeat and supportive energy carried throughout the first set, for they dominated the court and dominated the Skyhawks. During the second and third set, the score was close, but the Trojans emerged victorious in the end. 
Senior Eva Johnson, a senior, reminisces about her final year as team manager, saying she is "upset that it's [her] last year, but [she] is excited for the postseason, because they will perform amazingly well."
Seniors on the Varsity Midlothian Boys Volleyball team have influenced their teammates throughout the season by projecting determination and toughness onto the court. Currently, they prepare for Regionals, where they hope to represent Midlothian High School with wins.
About the Contributor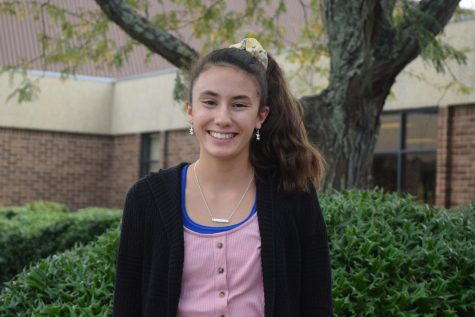 Katherine Krievs, Editor-in-Chief
Katherine Krievs, Editor-in Chief, Class of 2021