Walton Park Celebrates Halloween
Walton Park 2017 Halloween Carnival
On a gloomy, rainy October 29th evening, Walton Park hosted the 32nd Halloween Carnival, which included: music, dancing, costumes, and most of all games, at its clubhouse.  Katie Bozzo, the head of the carnival committee, commented, "The hardest part of hosting this carnival is finding enough volunteers, for the different stations and games.".  Along with the games, the event also included a costume contest. The most creative costume went to the mad scientist, the best adult costume went to Princess Leia, and lastly, the best group costume was the Storm Trooper group. Hairspray and face painting emerged as the two most popular stations at the carnival.  Sydney Davis and Riley Krohn volunteered at the hairspray station, where students chose from many elaborate designs and colors.
When asked what made Walton Park different from other communities, Aubrey Davis, an 8th grader at Midlo, commented, "It's different from other communities because everyone knows everyone. We are all part of one huge family. Also, it's unusual that the whole community comes together so many times a year, just to see each other and have fun.". Costumes, including: witches, Minions, dinosaurs, superheroes, ghosts, and Disney princesses, dominated the landscape. To keep the children entertained, the subdivision also offered carnival games, such as: Hallo-Bowl, Poppin' Goblins, Fishing for Ghoulies, Cake Walk, and so much more.
Energizing the crowd, music of many genres, like pop and soundtracks, permeated the event. Unfortunately, because of the rain, the carnival ended earlier than expected, but that did not stop all of the fun and games.  As the carnival wound to a close, Mrs. Tara Krohn, a teacher at Woolridge Elementary, called all the children over for some Halloween story time. She used her eerie witch voice as she read aloud seasonal books. All of the little ghosts, goblins, and princesses listened attentively, entranced by the magic of Halloween.
About the Contributor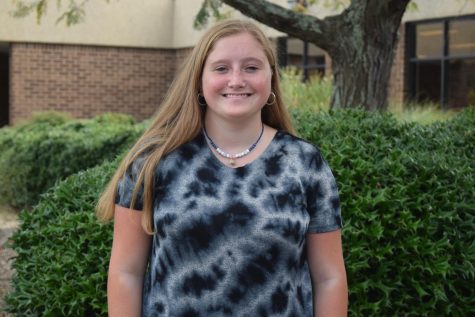 Emily Gundel, Midlo Scoop Staff
Emily Gundel, Class of 2021