Seniors Say Sayonara to the Court
The Girls Volleyball Team Celebrates Senior in Final Game
The Midlothian High School Class of 2018 includes numerous, dedicated student-athletes who have given four years to the Trojans.  As the fall season comes to a close, seniors approach their final time wearing a Midlo uniform and begin to look back on memories they have made.  Before the Girls Volleyball match on October 24, 2017, two seniors were recognized for their time spent at Midlo and the bright future ahead of them.
This year, the Girls Volleyball program at Midlo will lose two talented stars, Brooke Bailey and Enjhalika (Jel) Esmena.  These two players have given much of their time, talent, and hard work to the team.  Teammates admire both ladies for the amount of effort they give every day. "I absolutely love Brookelyn and Jel. They work really hard in everything and always do their best. The team won't be the same next year without them, and I know they both will do great things in college," says freshman teammate, Ella Stroud.  
On the special night, the Lady Trojans hosted the visiting Lancers from Manchester High School.  The first set started strong for the Trojans with a final score of 25 – 15, securing a one set to none lead.  In the second set, both teams put up a fight, but the Trojans came away with another set victory, taking the score to two sets to none. The third set, one they needed to win for the game to be over, was a true show of the Trojan skill.   They dominated the court and gave it their all. In the end, the two graduating seniors took home a "clean sweep" victory in their last home game as Trojans.
After they played their final match, both seniors felt emotional as they competed in their last home game with their team. "I honestly cannot believe it. My four years of high school have gone by incredibly fast, and my volleyball career has come and gone even faster. Although my time as a volleyball player is almost over, I look forward to  my future and cannot wait to see what it holds," says Brooke Bailey about her time at Midlo.  Enjhalika Esmena also reflected on her time as a Trojan, commenting, "Although I only started playing with the girls last year, I feel like I've known them forever. Playing with them brought us all even closer, and I'm glad that they were all a part of my senior year. There's still more to our journey, and I wouldn't want to conquer it with any other girls.".
About the Contributor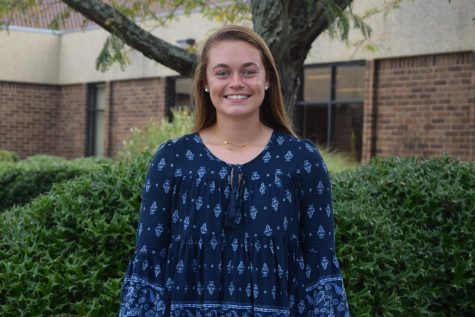 Erin Junkmann, Sports Editor
Erin Junkmann, Class of 2020