Midlo Wins Football Home Opener
Midlo started the game slowly with multiple missed tackles on the kickoff return, leading to a 40 yard return for the Falcons. After this initial defensive blunder, on the next play, number 11 Tyler Moore lowered his shoulder into the left guard, pushing up the middle and into the backfield, leading to a 13 yard sack. Fueled by the rambunctious student section, the Midlo defense kept up the pressure, forcing a punt on the Falcon's first drive. Despite the impressive defensive stand, the Midlo offense was initially unable to capitalize on the strong effort. This trend of defensive dominance continued for both teams, until the final seconds of the first quarter. On 2nd and 7, from their own 20 yard line, Huguenot completed a 5 yard pass, and as soon as the receiver turned his head to advance downfield, number 5 Casey Joyce laid a monster hit, jarring the ball loose. After number 10 Logan Cook recovered the fumble, this play provided a huge momentum swing in favor of the Trojans. Heading into the second quarter, Captain Quarterback Kyle Daniluk prepared his troops to put on a show in front of a nearly sold out home crowd.
The Midlo offense began their drive in Huguenot's territory at the 18 yard line, ready to make a statement. On first down, the pocket collapsed, forcing Daniluk to sidestep the first tackle and roll out to the right sideline, then make an incredible 6 yard pass on the run to Joyce. Aided by multiple Huguenot off sides, Midlo carried the drive down to the 1 yard line. Set up in a power I formation, Moore took the hand off, and pushed the pile of bodies into the end zone for the first touchdown of the game.
Following a punt on each teams next drive, the Falcons threatened to score, driving deep into Midlo territory, until number 81 Kyle Webb halted all momentum with an interception at the goal line. This interception was forced on a scramble play, where the Huguenot quarterback launched a deep pass off his back foot to the end zone, which Webb undercut and timed perfectly, leading to his second interception of the season. Despite the fortunate turnover, Midlo was not able to capitalize, ending yet another drive with a punt. Huguenot, however, capitalized on their next drive, marching downfield 63 yards and punching it in from the one yard line to finish off a solid drive. Although Midlo gave up the touchdown, they did not surrender the lead, thanks to a hustle play by number 22 Will Pomeroy. By flying off the edge and blocking the extra point attempt, the score stood 7 to 6 Midlo, going into halftime.
Early in the second half, Midlo's defense continued to provide the spark needed to jump start the offense. Yet again, Huguenot's quarterback made a crucial error while being chased by defensive end number 58 Marvino Coleman, lobbing a careless pass into the air, only to be secured by Midlo's number 1 Neil Richburg. This time, Midlo successfully turned great field position into points. From the ten yard line, Daniluk threw an absolutely beautiful back shoulder fade pass to Pomeroy in the corner of the end zone, capping off a drive that played a critical role in sealing the victory for Midlo. The defense continued to suffocate Huguenot's offense until the scoreboard read triple zeroes, signaling a monumental 14-6 win for the Trojan's season. In front of one of the biggest home crowds in Midlo history, the Trojan's outstanding performance spread confidence throughout the locker room, sending a message to the rest of their competition: "We will not back down."
About the Photographer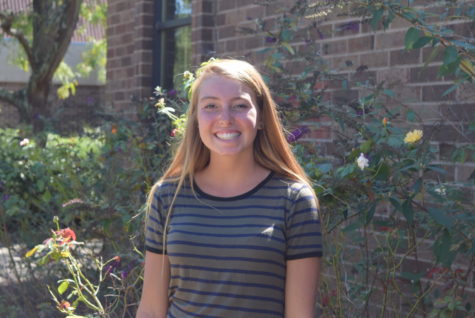 Eva Johnson, Midlo Scoop Staff
Eva Johnson, Class of 2018