Midlo XC Girls Run Away With Victory
Midlo Ladies Dominate in Cary, NC
On October 6, 2017, Midlo's Girls Cross Country team left school at 9:30 am to embark on a journey to Cary, North Carolina, where they would compete in the Great American Cross Country Festival. This intense event hosts teams from across the United States, and it is the biggest cross country meet on the East Coast. At the event, professional runners answered interviews, popular running brands distributed free merchandise, and runners competed in a race that had the fiercest competition that some would ever experience.
On Saturday morning, race day dawned, and the varsity runners scurried down from their hotel rooms to gobble up a breakfast of champions. While loading the vans to venture to the meet, each girl anxiously awaited the starting gun that would initiate the beginning of the 8:20 race. Once at the race venue, Midlo's Girls Varsity Cross Country team began their warm-up, preparing to race as fast as they could for twenty minutes. After an hour of preparing to run and surveying the competition, event time arrived; at 8:20 am, the starter raised his gun and pulled the trigger, initiating the beginning of the Varsity Girls' Race.
Throughout the race, the Midlothian Girls Cross Country team, comprised of Annabel Schepker, Caroline Bowe, Ashlyn Ferguson, Lauren Merrill, Katherine Krievs, Eva Johnson, and Camryn Adams never quit working toward the goal of placing first in their division. Enduring pain and exhaustion, the runners sprinted into the woods, then reappeared to run up an extensive and steep hill; the race continued into the deep woodlands of North Carolina, and the race finished at the top of the same giant hill.
As the team finished, it was apparent that they had accomplished something wonderful; the Midlo Girls Varsity Cross Country team had won the team division. Coach Stan Morgan felt pleased with his team's placement. The team received a plaque, which now hangs in the front office. Freshman Caroline Bowe says, "Going to Great American was a great experience, and I had tons of fun!"
Although each runner felt utterly exhausted by the end of their race, they all wore big smiles as they left the meet and began their journey home.
About the Contributor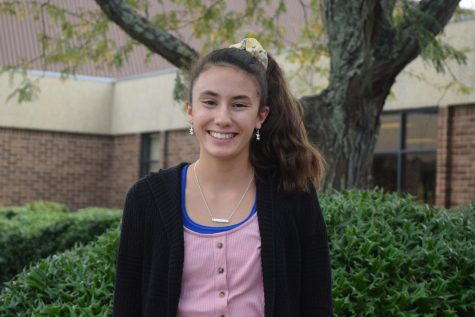 Katherine Krievs, Editor-in-Chief
Katherine Krievs, Editor-in Chief, Class of 2021