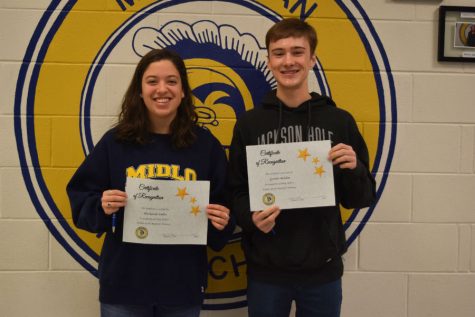 Principal Shawn Abel and Ashley Manheim

February 15, 2017
Ms. Mackenzie Fuller, Midlo's February female student of the month, ranks in the top 1% of her class academically.  She takes very challenging courses and works extremely hard to consistently earn outstanding grades.  Her teachers commend her work ethic, quality of work, and outgoing personality. Whil...
Ellen Tucker, Staff Writer

February 13, 2017
Congratulations to Andrea Taylor and John El-Jor, who auditioned and were selected to attend All-State Chorus.  Gabe Fenyes was also selected as a first alternate.   According to the three, the audition process was moderately lengthy. To begin, they entered a room that had two judges, both hidden b...