A Difficult Farewell
Mrs. Nancy Lee Retires After 32 Years in Education
Hang on for a minute...we're trying to find some more stories you might like.
As society modernizes with every passing year, the integral nature of having an understanding of the natural world grows more and more important. Educators who teach science courses aimed at helping students view the ever-changing natural world play a key role in shaping the future of our society. By helping students understand the importance of relationships in the discipline of science, science teachers offer them the ability to make breathtaking creations.
Through the use of class experiments and science fair participation, Mrs. Nancy Lee, who retires this year after 32 years in the classroom, demonstrates these principles daily, as she guides her students to realize the real world applications of lessons learned in the classroom. Science Department Chair Mrs. Tricia Miller considers Mrs. Lee "the heart of the Science Department."
Mrs. Lee has taught at Midlothian High School for 14 years, teaching physics and biology.  Her hard work and dedication have made her one of Midlo's most distinguished teachers, even receiving the honor of serving as the 2011-2012 Midlothian High School Teacher of the Year. Mrs. Lee also is widely revered for her work with Robotics throughout the years.  As current physics student Bailey Blair puts it, "Mrs. Lee's humor and patience makes physics fun and enjoyable".
After 32 years of working in education, Mrs. Nancy Lee will retire at the end of the school year. She will be missed by students and faculty alike, as Mrs. Miller concludes, "Mrs. Lee has been an important part of our family here at Midlothian. We will miss her dearly."
What has been your favorite memory about teaching at Midlothian High School?
I have loved the spirit of community that is present at MHS.  I love the students and colleagues I have been blessed to work with.
My favorite memories are probably the many projects I was privileged to be a part of; Robotics, Can Drives, Mousetrap Cars, Catapults, Electric Houses,  Egg-drop Devices, and early on – Color guard.  I had the opportunity to make color guard uniforms as well as flags.
One special memory (that still makes me chuckle) involved an aluminum can.  I was responsible for many years for forcing students and parents to collect 200 aluminum cans.  On Valentine's Day of one of those years I received a flattened can, in the shape of a heart, in the mail – anonymously with a "Best Wishes for a wonderful day" note.
How does it feel to retire and become a member of the Class of 2017?
I am simultaneously happy and sad.  I will not miss grading hundreds of papers, traveling with school work, and getting up at 5 am daily.  I will miss the energy that comes from working with such wonderfully talented and challenging young people.
What made you decide you wanted to teach science?
I feel I have always been a teacher.  I was the oldest girl in a family of 4 children.  It was always my job to "look after" my younger siblings, read to them, and help them with things.  They became my students really early.
I was very involved with HS Science Fairs.  As a senior I won the overall grand prize.  I worked with Tulip Snails. The prize came with a trip to San Francisco and the opportunity to speak in front of a room full of scientists.  I also received a scholarship for this work.  It was an amazing experience, and it made me want to share things I had learned with others.
Do you have any other hobbies or interests, outside of school?
I love to read, sew, quilt, crochet, cook, paint, play tennis, garden, and to spend time on (and in) the water.  I particularly like to kayak and ride our jet ski.
What are your future plans?
 I plan to spend time with my family, restore my house to full functionality, spend time at the Chesapeake Bay, volunteer in my daughter's second grade class, and relax.  At some point I may want to teach at another level on a part time basis.
Most interesting experience you have had as a teacher?
Having my Robotics Team win the Virginia Regional Championship and being allowed to travel to the International Contest in St. Louis
Is there any interesting fact you would like people to know about you?
I really like taking walks with my golden retriever, Layla.
Is there anything in particular that you are going to miss about Midlothian High School?
I will miss the people that have become like family to me.  I have enjoyed the support of many good folks.  I will miss the familiar routine and, of course, the joy of "snow days".
About the Writer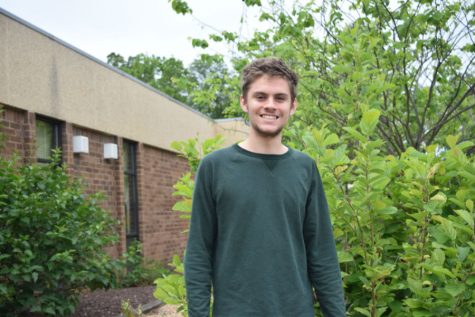 Michael DeMatteo, Marketing Editor
Michael DeMatteo, Class of 2017