Thank You, Teachers!
Midlo Celebrates Teacher Appreciation Week
This week from Monday, May 1, to Friday, May 5, Midlothian High School celebrated Teacher Appreciation Week. During the whole week, the administration encouraged faculty, staff, and students to participate in Midlo's spirit week in honor of our beloved teachers.
Teacher Appreciation Week celebrates educators for their hard work and dedication.  "My favorite thing about Teacher Appreciation Week is that every day is fun. We get little surprises, cards in my mailbox, and some little gifts," Mrs. Molly Palenski smiles.
Every teacher went down a different path that led them to teaching. Science teacher Mrs. Patricia Miller started working in public relations, and through that, she worked with teachers during conferences. "I always found myself wanting to learn and work with them instead of doing that job I had." After realizing her new found love, Mrs. Miller went back to get a masters degree in teaching, and because she was also in pre-med during her college days, that passion led her to ch0ose Biology. For English teacher Mr. Daniel Cheatham, engineering was his first call, but he decided not to go through with it. "I wasn't passionate about engineering, so I hated it, but I liked the English classes I took.  I also liked teaching people, so I became a teacher," he explained.
Being a teacher definitely requires hard work, patience, and dedication. Social Studies teacher Ms. Jessica Kramer advises any future teachers: "If you want to become a teacher, you have to have multi-tasking skills and be willing to come in and expect something brand new. Every day students will surprise you with both good and bad things. There's going to be lots of ups and downs, but it's very rewarding to be able to touch lives the way nobody else can do."  
Don't forget to thank your teachers and remind them how much they're appreciated for their commitment to Midlo. "My favorite thing about being a teacher is getting to see the growth and development of students from freshman to senior year," says Mr. Erich Yost. Midlo teachers support their students every day. Teacher Appreciation Week is an opportunity to say thank you. 
Thank you teachers for all that you do. Happy Teacher Appreciation Week!
About the Writer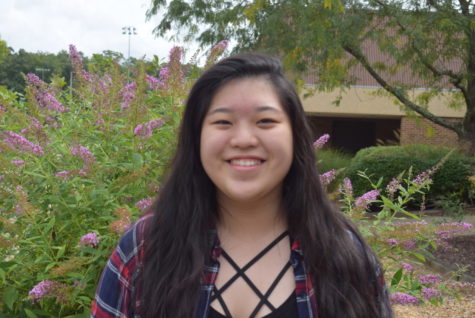 Anna Chen, Midlo Scoop Staff