An Outstanding Recognition for an Unbelievable Teacher
2017-2018 Midlothian Teacher of the Year: Mrs. Regina Warriner, Social Studies Department
The entire Midlo population is fortunate to have a strong faculty full of caring and passionate professionals who always show up ready and eager to make a positive impact on their students; however, once per year, a committee chooses one exemplary teacher to receive special recognition as Teacher of the Year. This year's recipient is the epitome of what makes Midlothian such a special school. Her positive classroom atmosphere and careful attention to the lives of each and every one of her students make her a standout educator, one that any student would be extremely lucky to have. Senior Evana Enam remarks that Mrs. Warriner creates "a really good learning environment and makes me want to learn". Congratulations 2017-2018 Teacher of the Year Mrs. Regina Warriner, who exemplifies what it means to be an unbelievable teacher.
On May 1, 2017, Midlothian teachers and faculty gathered in the library to recognize and celebrate this amazing accomplishment. Midlo's 2016-2017 Teacher of the Year, Mr. David Wilson, had the privilege of passing this award to Mrs. Warriner at the ceremony. The Teacher of the Year process has several steps. First, Midlothian teachers nominate one of their colleagues for the honor. From those names, a committee comprised of former Teachers of the Year selects the new TOY recipient. Mrs. Warriner received an overwhelming amount of praise and appreciation from her fellow teachers. One colleague described her as "an example of a true professional, the kind of teacher we all strive to be," while another said, "She inspires all of us, students and faculty, to be better, to try harder, and to see the possibilities in the world around us."
Students who have had the opportunity to have Mrs. Warriner as their teacher recognize her hard work and dedication, which she exhibits each and every day in her classroom. Senior Michael DeMatteo remarks, "Having Mrs. Warriner has been the highlight of my senior year. Her vibrant personality and welcoming nature has made her an inspiration and an individual whom my peers and I can confide in. She remains one of the best [teachers] I have ever had the pleasure of having. She doesn't just pose questions to her students; she inspires them to ask questions that guide classroom discussion. Since my arrival in her class, I have grown immensely as a student and as a person; I know next year in college I will reflect on the amazing memories and influence Mrs. Warriner have had on me. I would not be where I am today without this incredible individual."  
Mrs. Warriner has taught both Government and U. S. History at Midlothian. She earned her bachelor's and master's degrees from Old Dominion University in History and Secondary Education. Before coming to Midlo in 2009, she taught at the high school she once attended as a student, Norview High School in the Norfolk area. Surprisingly, Mrs. Warriner stumbled upon her career as a teacher accidentally when she took a job as a nanny to a young girl. In her free time, she began substitute teaching. Her high school principal set up an interview for her as a full time teacher at the school, a job that Mrs. Warriner was not sure she wanted. "I didn't even know I wanted to be a teacher," said Mrs. Warriner. "It wasn't until someone saw something that I didn't even see in myself that I realized this is what I was meant to do."   
Through her thirteen years of teaching, Mrs. Warriner has experienced some incredibly heartfelt and meaningful interactions with her students. Her favorite teaching memory happened during her tenure teaching at Norview High School. Mrs. Warriner reminisces: "My grandfather passed away in 2005, and being raised in a predominately Catholic family, wakes are a more solemn event. My students knew that I was coping with the death of my grandfather and taught me to look at this situation in a different way.  They told me to praise the Lord, for my grandfather is now home with God, and to look at this situation with a positive light."  Mrs. Warriner points out that she learns as much from her students as they learn from her.
The honor of being named Teacher of the Year is an amazing accomplishment that Mrs. Warriner will carry with her forever. She is a student-oriented teacher with her complete focus on helping her students. "Watching students grow and seeing where they go after they leave Midlothian is my favorite part about teaching," said Mrs. Warriner. "Teachers learn just as much from students and can have a perspective change in their outlooks."
Her students and colleagues are just as fond of her as she is of them. Here are a few remarks from faculty members, and past and present students: 
"Mrs. Warriner is always forward thinking with her lesson plans, implementing new strategies like PBL to give her students fun and real life experience with the curriculum."
–Mrs. Missy Hill
"She's one of the most energetic teachers and is also a wonderful colleague, friend, and mentor.  She always gives indispensable advice."
–Mr. Tim Johnson & Mr. Adam Schwab
"Mrs. Warriner is a walking ray of sunshine. I so admire her amazingly positive outlook on life, and I find her creativity in the classroom inspirational. She truly loves her students, and they love her in return. This honor is well deserved."
–Mrs. Jackie Tully
"Mrs. Warriner was one of the kindest individuals I have ever had the pleasure of encountering. From inviting students to her home for Thanksgiving when she knew they didn't have family at home to spend the holidays with to always having a couple jokes in her back pocket to lighten up a morning lecture, Mrs. Warriner cares immensely about the academic success and well-being of her students. Mrs. Warriner has inspired me to care more about the world around and be wholly invested in researching and remaining updated on what is going on in our federal, state, and local governments. I remember one day when I was sad and stressed out, Mrs. Warriner noticed, and she sent me a card that encouraged me to remain positive and re-center. That card is still on my desk in college. Mrs. Warriner, you rock! Thank you for all you've done for me and for the rest of your students."
–Neha Kulkarni
"Mrs. Warriner is someone who truly values the work she gets to do, and you can see that every day in how she inspires students not just to know information, but to learn it, to love it, and to understand it so they may use it to better the world. But beyond this, she is someone that will drop everything for her students and value each and every one of them as people, not just pupils, and for that, Mrs. Warriner has always and will continue to always be my teacher of the year."
–Malcolm Stewart
"Mrs. Warriner was one of my favorite teachers from Midlo, and I believe that she is deserving of this award. She was always so understanding, friendly, and always went out of her way to help her students succeed. I enjoyed being one of her many students, and I am very happy for her."
–Luke Milanovic
"Here's to mornings full of good times, energetic laughing, and an all around positive vibe from one amazing teacher. I am so thankful to have had the privilege of spending every morning with Mrs. Warriner my senior year. She is one of those teachers that you don't forget when you graduate and head off to college, and I will always remember her as the most caring and loving individual I have ever met. Thank you for everything you do and for everything you will do for your future students."
–Sydney Van Horn
"Mrs. Warriner invests her time into getting to know her students and genuinely cares about them."
–Mary Ibanez
"My favorite part of the morning is starting the day with positive good times."
–Alex Rose
"She's a kind-hearted loving lady who wants to see her students succeed."
–Aaron Hou
"We love you, Mrs. Warriner."
-Dillon Powell and Coleman Rock
About the Writer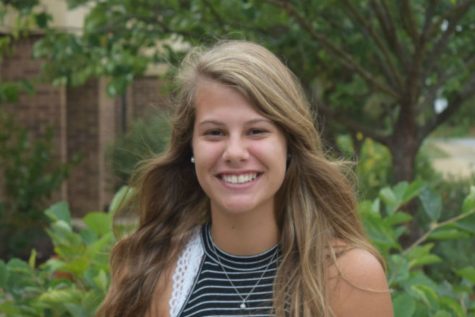 Sydney Van Horn, Midlo Scoop Staff
Sydney Van Horn, Class of 2017