Dancing Under the Lights
Midlothian High School Prom 2017
On Saturday, April 22, 2017, Midlothian students attended Prom, themed Enchanted Forest of Lights, at the John Marshall Hotel in Richmond. Students carefully prepared months and weeks in advance, picking out the most beautiful dresses and dashing tuxedos, and choosing the perfect dinner spot.
Students usually take prom pictures outside at the Midlothian Mines Park, Salisbury Lake, or the VMFA, but this year, the inclement weather forced attendees inside for photo ops.  Many students took pictures inside one of their friend's houses, at the Jefferson Hotel, or in various places around Richmond. Afterwards, students headed to fancy restaurants around the area or shared a catered meal at home.
The John Marshall Hotel proved a beautiful venue for Prom. The ballroom provided plenty of room for dancing, and the balcony upstairs gave the Ring Figure Court a perfect spot to wait before walking down. The Ring Figure Court featured one male and one female student representative from each Midlo sport, club, and organization. Afterwards, the entire ballroom did a drum roll, as Mr. Tim Johnson prepared to announce Prom King and Prom Queen. Principal Shawn Abel crowned Rico Coleman as Prom King, and in an unusual twist, Lara Ann Douglas and Lauryn Basl tied for Prom Queen and both received a crown. The ballroom erupted into cheers and applause. "I wasn't expecting to win at all, so it was a huge surprise and a great end to my senior year. I'm super excited for both Lauryn and Rico; they both deserve it,"said Douglas.
After the ceremony ended, the students continued to dance. Many students commented on the DJ, saying how they wish he had played songs that were more popular and easy to dance to; he often threw in remixes that halted the flow of dancing; however, despite the music choices, the Midlothian students still had a great time dancing the night away.
At the end of the festivities, meticulously planned by junior class sponsors, Mrs. Rachel Aiello and Mrs. Jennifer Smith, with the help of junior class officers, students headed back to the parking garage to begin their travels back to Midlo's Post Prom. After some difficulties exiting the deck, they eventually safely traveled back to Midlothian to enjoy Post-Prom, a well organized event hosted by the PTSO. Overall, Midlothian's 2017 Prom proved a huge success and a great opportunity for upperclassmen to have a fun night together before graduation.
Leave a Comment
About the Contributor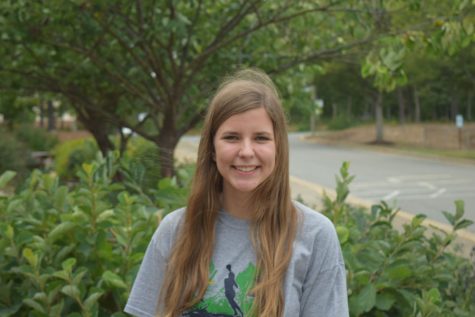 Ellen Tucker, Staff Writer
Ellen Tucker, Class of 2017