RVA to Everywhere
Midlothian Students Celebrate 2017 Spring Break
With the stress of AP exams, SOLs, and Prom settling over Midlothian's students, they took the liberty of relaxing and exploring over Spring Break. Some students took the time to de-stress and spend time with friends, and some spent their time exploring and traveling all over the globe. Whether just lying on the beach with friends or diving into the unique culture of different countries, several Midlo students spent Spring Break making memories.
Traveling to the beach has always been a fan favorite for Spring Break. Some students traveled out of the country to the Bahamas and Mexico or cruised to several different islands throughout the Atlantic. Juniors Jenna Kyte and Emily Smith spent their week aboard a giant cruise ship, en route to Jamaica, Haiti, and Mexico. Coincidentally, junior Brad Lipsteuer and his family coincidentally was on the same ship.  Kyte said, "It was surprising seeing someone I knew on my cruise ship, but I had so much fun with my family and best friend." Best friends Claire O'Brien and Irish Kulas have spent their Spring Breaks together in exotic places for the past couple years. This year, they flew from Richmond to Harbour Island in the Bahamas and spent an entire week under the sun, where the water is as clear as glass. O'Brien said, "There's nothing better than spending Spring Break in a beautiful place with my best friend." Seniors Elli Perkins and Kate Hicks also traveled beyond the United States borders to exotic places such as St. Thomas and Turks & Caicos. Sophomore Zoe Kopidis was invited to go to Exuma, Bahamas, with her best friend from James River High. They spent their time on the beach and also interacted with wild pigs that are indigenous to the area. Kopidis said, "It was so relaxing and so beautiful; it was definitly a trip to remember!" 
However, the United States beaches proved just as popular as those of the Bahamas, as several students went to Florida, North & South Carolina, and Virginia Beach for their vacations. Alli Barthol and Nora Mulroy traveled separately to Emerald Isle in North Carolina along with their families. Natalie Webster and Josh Pace road tripped down to Myrtle Beach in South Carolina and camped along the ocean. "It was a good time to relax and spend time with my girlfriend," said Pace. While her sister was spending time in the Bahamas, Sophia Kopidis traveled with her parents to Kill Devil Hills in North Carolina. Even though she didn't get to accompany Zoe, she said, "I had the opportunity to relax and used my time to study for AP exams."
Some students will always be kids at heart. The Elmore clan packed in their car and traveled several hours south to the land of magic, Disney World. Having visited several times before, Lauren Elmore said, "My favorite part is always the fireworks and Space Mountain at Magic Kingdom." In the beginning of the Spring Break week, Lilly Cox and Emily Peachee drove out to Virginia Tech to experience the campus in the spring. Both of them will attend VT next year, and Peachee said, "Going out there really made me excited to go to school there in the fall!" Peyton and Hunter Neff's parents surprised them with a trip to Cabo San Lucas, Mexico. They spent a week there shopping in the local sidewalk stores and sipping cold drinks beside the pool. Neff said, "I made lots of amigos in Mexico," because everywhere he went, the locals called him "amigo".
While some students flew south, others traveled east over the Atlantic. Senior Brandon Hazelrigg accompanied his family to Germany, where they explored castles and the German culture for an entire week. Senior Nikesh Kamani flew over 15 hours to the city of Dubai in the United Arab Emirates. "Desert heat was a killer. The plane flight was exhausting, but the trip was 100% worth it," said Kamani about his once in a lifetime trip. Through Midlothian's French program, several students traveled with their classmates to France, where they spent time in the city of Paris and visited with their exchange students that had traveled to Midlo in the fall. Senior Katherine Wrobleski said, "My trip to France was culturally enriching and gave me the opportunity to learn a lot about champagne, while we were in the Champagne district of the country."
Now with Spring Break 2017 in the books, the students are back in their regular, daily schedule at Midlothian. With Prom, AP Exams, SOLs, graduation, and other student activities approaching, students eagerly await the arrival of summer. Spring Break was just a taste of the adventure and opportunity Summer 2017 has in store.
About the Writer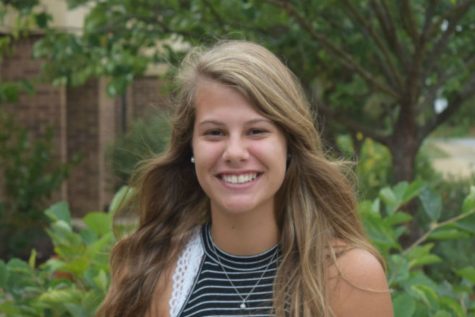 Sydney Van Horn, Midlo Scoop Staff
Sydney Van Horn, Class of 2017