PROMise You Will Go to Prom With Me?
Promposals Go Above and Beyond
With the season of sunny skies and blooming flowers comes the arrival of elaborate prom dresses and fancy boutonnieres. It's the time juniors and seniors wait for all year: the annual promenade, more informally known as prom. Prom provides time a memorable night for students to dress up, gather with their friends, and battle it out on the dance floor. However, one of the most crucial parts of prom is the infamous question, "Who will have the best promposal?" As each year passes, the students raise the creativity bar higher and higher, as they consider the perfect promposal.
A promposal is a quirky, clever way to ask someone to prom. The typical promposal can include puns, inside jokes, singing or dancing, and elaborate gestures to try and outdo one another on the best promposal. This year, several juniors and seniors went above and beyond, devising some of the most unique and thoughtful proposals to date. Senior Bryce Mann asked his girlfriend, Midlothian varsity soccer player Nicole Czyzewski to the dance by decorating her car as a giant soccer ball, while Alex Knorpp asked his friend Sophia Kopidis to prom with a sign that read "Be my chick at Prom?" along with a Chick-Fil-A iced coffee and a meal. "He asked me in the middle of practice, and it was really exciting because he brought me Chick coffee," said Kopidis. 
Some people played their promposals off of their dates' personal interests or hobbies. Senior Caitlin Walker asked her boyfriend Chayton Altice to prom by dressing up as Dwight Schrute from the office and holding a sign inspired by the popular television show. Walker said, "I'm not a big fan of the cheesy posters, but I was helping my friends come up with ideas for their dates, and I found a lot of funny ones with a theme of The Office, and since Chayton loves the show, I just decided I had to do it." Junior Katie Daniluk asked her boyfriend Brayden Staib, who runs track and field at Midlothian, to prom with a shot put inspired sign.
Other students made signs inspired by current events or events happening in the world. Junior Kenny Harbula asked sophomore Erin Babashak with a March Madness promposal. He made a "prom" bracket and had both their names in the championship game. On St. Patrick's Day, Kyle Daniluk asked his girlfriend Patterson Levitch with an Irish sign, reading "Will you make this my lucky St. Patterson's Day?".  She said yes. "This year's St. Patrick's Day was a very lucky day for me," says Levitch. With the new Beauty and the Beast movie coming out around the same time as prom, it gave junior Ben Hammond the perfect idea for asking his friend Heidi Peterson to prom. He made a sign that said, "Will you be my guest at prom?".
No matter how big or small the promposal, there always is a special meaning behind each one. Midlothian High School also is holding a competition for the best promposal to this year's prom. Winners will be announced before prom and will receive a special prize for their special promposal.
About the Contributor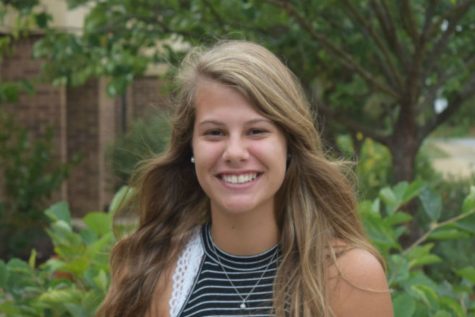 Sydney Van Horn, Midlo Scoop Staff
Sydney Van Horn, Class of 2017