The Holiday Grooves
On December 10th, Midlothian High School had something to beam about, apart from cute Christmas sweaters and contagious holiday spirit: the Winter Music Assembly.  The concert overflowed with holiday spirit, delivering beautiful renditions of holiday songs through both vocal performances and instruments.
   Masters of Ceremonies, Andrew Bartee and Sean Dudley, effectively used humor to move from one group to another. Vocal groups Rhythmic Drive, Vocal Ensemble, City Lights, Chamber Ensemble, and Just For Show sang their hearts out. Drawing particular attention, Pitch Perfect delivered a stand-out performance, including a wonderful rendition of Santa Baby, including a solo by Lauren Rector and Travis Bartee. The choir all sang a holiday mix of Christmas Canon favorites: Merry Sing Noel!, The Coventry Carol, Tomorrow Shall Be My Dancing Day, Red, Silent Night, and Jingle Bell Rock.
   "I love this concert because there's a lot more audience involvement, since Mrs. Graham asks people to stand up and sing. It's also nice having the band and orchestra play with the choir. Hallelujah is a nice tradition," said Sophia Trout, a junior chorus student.
    The Symphonic Band and Orchestra joined in the holiday spirit, playing gleeful songs like Sleigh Ride.  "Performing for the elementary kids is definitely the best part; I like to see them smile when we play Sleigh Ride…The percussion goes out to the crowd and energizes the audience with the slap sticks, subsequently bringing many giggles and gasps. It's by far my favorite concert of the entire year," said Merrill Livingston, a two-year member of Midlo's orchestra.
    The orchestra played an enchanting version of the classic, Christmas Eve Sarajevo, to end the show and played along with the band for several other musical tunes. "I love this concert because it's so intense with the music, and when we all come together, the atmosphere is so spirited. It's my last year here, and it's just a great concert of togetherness and Christmas spirit; it's so much fun!" said Caitlin Walker, a three-year member of the Trojan Band.
   At the end of the program, the Symphonic Band, Orchestra, and Chorus, joined by members of the Midlothian faculty, came together to perform the Hallelujah Chorus, hitting all of the notes and impressing the audience. As usual, the Performing Arts students treated the student body to a true exhibition of holiday spirit.
About the Contributor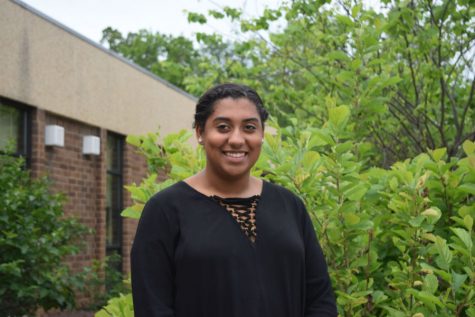 Alexa Battle, Photographer
Alexa Battle, Class of 2017