A Night of Stunning Stars
Midlothian Chorus Showcases Night Of Stars
On the evening of Friday, February 17, 2017, Midlo's choral groups took the stage for the annual Night of Stars. City Lights, Rhythmic Drive, Pitch Perfect, and Just For Show, accompanied by Show Choir Band, showcased their competition performances. The auditorium, filled with ecstatic students and family, arrived excited to view the talent and dedication of the stars of the night. Choral director Mrs. Michelle Graham opened the show with high praise for her students' "endless passion for singing."  Night of Stars proved successful, thanks in part to the support of many from local business sponsors. Proceeds from the popular event will support the program and help fund  scholarships for deserving seniors.
To begin the show, the curtain burst open to reveal members of City Lights, who sang Opening Up, which included a beautiful solo from Sophia Nadder.  The set included lively songs, such as: Ordinary Life, Works Hard for the Money, The Distance You Have Come, and I'm Outta Here, featuring soloists: Katie Murphy, Blair Darrah, Lauren Flynn,  and Andrea Taylor.  The performance then took an a capella turn when Rhythmic Drive took the stage, under the direction of John El-Jor and Hunter Forsythe, singing a rendition of I Know Where I've Been, featuring John El-Jor and Garrett Redden.
For the second year in a row, Midlothian Night of Stars invited The Jubilation Choir, a community adult choir sponsored by Salisbury Presbyterian Church, back to its stage. With a stellar performance, this group illustrated that dedication to music and singing never fades, singing: Hear My Prayer, You Make Me Feel So Young, and When I'm Sixty-Four to great applause. Unaccompanied, an all-female a capella group from James Madison University, also sang a wide variety of songs, including: The Greatest by Sia.  Midlothian alum Caroline Bass, a member of Unaccompanied, expressed how being a part Midlo Show Choir made her want to continue making music in college. 
Under the direction of Bailey Blair and Katie Murphy, Pitch Perfect, Midlo's all-girl a capella group, took the stage next, singing a Mama Mia Mashup, with soloists Maddie Sheffler, Blair Darrah, Will Johnson, Leah Besser, and Lauren Flynn. For the finale, Just For Show took the stage, revealing expert choreography and exceptional voices. As their first song, they performed the Midlothian High School Alma Mater, followed by classics: Promise of a New Day, What Is This Feeling, Rip Her To Shreds/Pretty Young Thing (PYT), Like Breathing, Isn't She Lovely, and Amazing Life, featuring solos from Bailey Blair, Andrea Taylor, and John El-Jor. Their performance lifted the spirits of everyone in the audience, filling them with joy.
When the curtain closed, the theater filled with cheers for their friends and family.  A celebration of food and laughter followed in the Open Commons. Midlothian Chorus Boosters and Midlothian Chorus would like to thank all sponsors and those who donated to the event, allowing the program to continue and grow. 
About the Photographer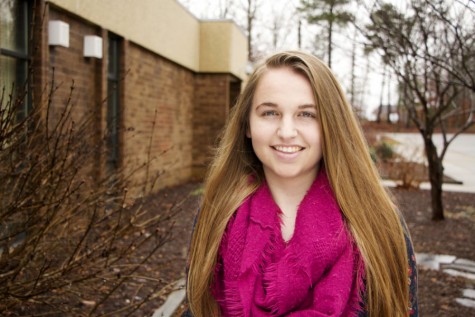 Merrill Livingston, Midlo Scoop Staff
Merrill Livingston, Class of 2018