Dueling Guitars
On February 11th, James River High School hosted a Battle of the Bands to raise money for its music program. Friends, family, and curious members of the community came to the JRHS auditorium to watch bands compete. Performers were split by amateur and professional. Each band in the professional category competed for free studio recording time, while the amateur category  entered to have good time and gain experience.
Of the four bands in the "professional" category, two proudly represented Midlothian High School. The first, called Ragtag, is a five-piece cover band with a love for classic rock and modern pop alike. The band consists of: junior lead singer Daniel Moor, two guitarists, juniors Andrew Partington and Noah St. Peter, junior bassist Anthony Mantz , and freshman drummer Brandon Brown. Ragtag performed covers of  Maroon 5's This Love, The Beatles' Let It Be, and ACDC's T.N.T.  Daniel Moore enjoyed the evening, as he professed the show as a "check off [his] bucket list." Each song produced more energy than the last, as the audience witnessed the captivating chemistry that is Ragtag.
The second dose of Midlo music broke the mold as a two man, experimental blues band called The Marquis. This eccentric duo came to the stage wielding a three foot bass drum and a sunny disposition, both found in a dumpster many years ago. Juniors Jake Petrillo (singer, guitarist, and percussionist) and Andrew Morris (trombonist and percussionist) performed a set of originals that filled the soundscape of a fully instrumented group. The Marquis ended its set with an altered version of Leadbelly's Black Betty that had the audience clapping along.
By a crowd vote, Ragtag won second place in the competition, holding their own against River bands with the home-field advantage. All in all, the Battle of The Bands brought the community together in an energy-driving, night of good vibes and good times.
About the Contributor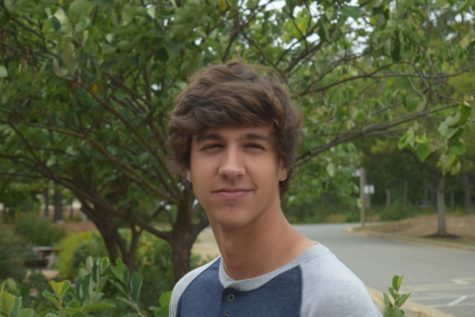 Jake Petrillo, Staff Writer
Jake Petrillo, Class of 2018