Romeo Reaches the World
An Update on Romeo Manheim, Instagram Pug
Whoever thought that a little pug from Midlothian, Virginia, could make friends all over the world? Romeo Manheim, (dog of Luke Manheim and Ashley Manheim and Mrs. Carolyn Manheim), a local pug with fans across the globe, continues to take Instagram by storm. The last time Romeo appeared in the Midlo Scoop, he had a mere 5,000 followers, but because of his iconic personality, unique posts, and creative captions, his follower count has doubled to almost 10,000. Less than a month into 2017, Romeo has already reached many goals and milestones for his account, securing a business deal with his favorite company, allthecutestuff.com, for their cute and colorful personalized dog collars.
Recently, Romeo woke up on Christmas morning to an amazing holiday surprise from a few of his friends in Leme, Brazil. These two followers, Micaela and Kevin, have been following Romeo since he started his account in October. To wish their favorite little pug a Merry Christmas, they posted a picture on their Instagram account (@micaela_e_kevin) of one of them showing off their favorite picture of little Romeo and the other holding up a printed piece of paper that reads, "Merry Pugmas, Romeo the Pug." They wrote "Pugmas" because throughout the month of December, Romeo p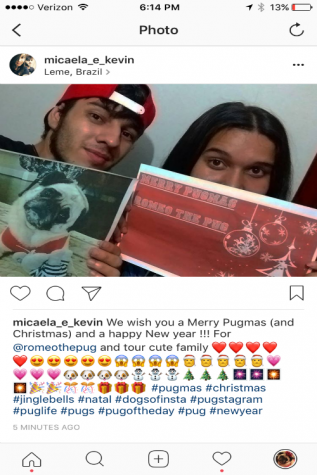 osted a daily picture of him looking dashing in a Christmas-inspired outfit/pose. He referred to these 25 posts as the "25 days of Pugmas" and his followers delighted in the pug-themed spinoff. Micaela and Kevin captioned the picture, "We wish you a Merry Pugmas (and Christmas) and a Happy New Year! This is for @romeothepug and your cute family." When the Manheim family woke to see this heart-warming surprise, they all felt humbled, amazed, and thankful to make such a big impact on someone through their sweet, little pug.
Mrs. Manheim says, "It amazes me how much Romeo means to people he has never even met. I can't believe how Romeo has been able to bring a smile to people's faces and how people think about him and care about him enough to take the time to do something special for him. My daughter told me that one of her followers reached out to her and told her that she had bad depression, but seeing Romeo's pictures every day makes her feel better. She even shared that since she has been following Romeo, her depression has been improving a lot, and she foresees feeling healthy again soon."
Micaela and Kevin again rewarded Romeo with a special holiday post dedicated to him, but this next post wished Romeo a happy new year. The picture took place at a beach somewhere in Brazil with a printed sign captioned, "Happy New Year, Rome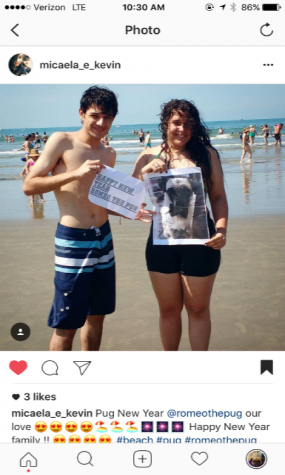 o the Pug," accompanied by an adorable picture of Romeo dressed in a fancy bow tie. The post read: "Pug New Year @romeothepug our love! Happy New Year family!!!" The Manheims adored this picture just as much as the last.
Senora Fasulka, a new Spanish teacher here at Midlo, loved hearing about Romeo's fans, and she exclaims, "I think it is so cool that Romeo has made friends over the world. My dog has an Instagram too (@fionnabean), and she can't wait to meet lots of people all over the world right along with Romeo."
While Romeo continues to make lots of new and exciting friends, he also has had the incredible opportunity to change lives and make people smile. Romeo and his family intend to seize this opportunity, and they hope to keep up the good work.
Leave a Comment
About the Contributor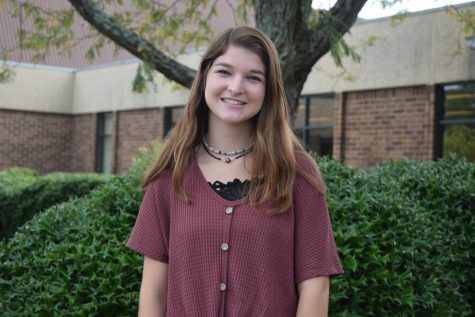 Ashley Manheim, Midlo Scoop Editor-in-Chief
Ashley Manheim, Editor-in-Chief, Class of 2020