A Peek Inside the White House
My Experience of Touring the Most Famous Home in America
During Christmas season,  I got to experience the opportunity of a lifetime when my mother and I toured the East Wing of the White House. On that Friday, my mother and I traveled to Washington D.C. early in the morning to catch our tour at nine. I was so ecstatic to see where President Barack Obama and his family resides and to catch a glimpse of the lives they live.
After approaching the White House, we parked and walked to the massive line at the security checkpoint. The security operation was endless due to the extensive process of checking federal ID, completing X-Rays, and placing bags through CT scanners, like at an airport. Throughout the security process, secret service paced the sidewalks with guard dogs, keeping a watchful eye on those longing to visit the White House. After the long procedure, I was more than ready to tour the White House.
Walking down a narrow sidewalk filled with men and women guarding the property, I received my first glimpse of where the President and the First Family spend most of their time. First, my mother and I walked through a gigantic archway, and immediately, my eyes went straight to the doors and windows filled with Christmas decorations. As we walked in the side door, warmth wrapped around me, and an aide gave me a "Thank You" book written by Michelle Obama. The first room on the tour was one dedicated to the First Dogs, Bo and Sunny, filled with lifesize statues of both dogs and doggy Christmas decor. The doggy room led to an elongated hallway filled with crystals on the ceiling and Christmas party streamers. Photos on the walls recalled memories of past and present holiday celebrations at the White House, intriguing those who roamed the halls.
The next room connected the East Wing with the West Wing. The West Wing, where President Obama works, was, of course, blocked off, but many other rooms were available in this unusual long hallway, including the beautiful China and Dining Room. This corridor connected to stairs, which led up to a huge living area decorated with at least four Christmas trees and the annual gingerbread house made with gingerbread and legos from each state. Each passerby stood in awe of the beauty of the craftsmanship of each room. This huge room led to the more famous Red, Blue and Green rooms filled with memories and history from many previous presidents. Each room I ventured into was decorated so exquisitely that my eyes widened each time.
This tour was definitely an opportunity of a lifetime, one that I will remember for the rest of my life. Throughout this walkthrough, I felt awed by the elegant and large decor placed with care around each room. The tour allowed me to see the time and effort put into crafting such an unordinary, special house, fit for the President of the United States.
About the Contributor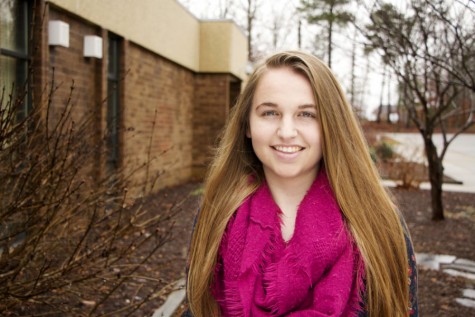 Merrill Livingston, Midlo Scoop Staff
Merrill Livingston, Class of 2018