@romeothepug
Local Pug Enjoys Instagram Fame
Who doesn't love a sweet dog in a costume? Midlo students Luke and Ashley Manheim and their marketing teacher mom, Mrs. Carolyn Manheim, love to dress their pug named Little Romeo Manheim in festive costumes, including: a hotdog, a grandma, a clown, and a criminal, making the pug an Instagram sensation.
Little Romeo, an adorable pug from a breeder in Dinwiddie, Virginia, recently turned 6 years old. He loves kibble, popcorn, his toy kitty (Kit), and his family. On Sunday, October 22, 2016, Ashley decided to create an Instagram for her little pug (@romeothepug); not thinking much of it, she posted a few pictures of Romeo in costume. Romeo even gave a birthday shoutout to his friend, Claire Horansky, for her dog Chester (@chester_the_cbr on Instagram). Before she knew it, Romeo had 500 followers in less than just 5 hours! After a little under two months of managing the account, Romeo has acquired over 5,000 amazing followers.
Mrs. Manheim says, "I think for me, the most important part of creating the account and [and its success] is dedication. Romeo had to post every day, and if he didn't, he would lose followers. Also, his posts had to be creative and different each day, or people would get bored." Recently, Romeo received recognition as a public figure on Instagram, a title the Manheim family is very proud to bear. Luke Manheim explains "Even though taking pictures of a dog and putting them on Instagram might seem silly to most people, a lot more can come from it than it might seem. We have already begun to receive, propose, and negotiate business deals with all sorts of different companies. Doug the Pug, an internet famous dog, is worth millions of dollars, and it all started on the internet. You never know what could happen and what people will like."
Some of Romeo's followers ask if he has any other social media accounts, and Mrs. Manheim responds, "Romeo does have a Twitter that can be located with the username @romeothecutepug, but he doesn't use it as much as the Instagram. He's trying to get more involved in the Twitter, but he doesn't know how to use it as well. Also, he has a Facebook, but he just uses it to link it to his Instagram. His Facebook is @romeothepug. I'm thinking of creating a youtube solely for Romeo. I already have one that is in my name with videos of Romeo, but I would like to make a new one. Romeo's email is [email protected]. Most people contact Romeo through Instagram, though."
People frequently ask if Romeo has a girlfriend, and the answer is yes. Romeo's girlfriend, Moon (@moonthepug), is an adorable little famous pug who Romeo loves with all his heart. Also, Romeo's best friend, the dynamic duo of Gilbert and Stout (@gilbert_and_stout), make Romeo's day a little bit brighter with their friendliness and loyalty. Instagram has created an environment for Romeo to make many amazing and kind friends, who he would not have met otherwise.
Followers of the account, Abigail Graves, Claire Horansky, Nolan Williamson, and Maddie Sheldon, exclaim, "We love Romeo's account. All of his pictures are absolutely adorable, and it brightens all of our days to see a picture of the cute little pug daily!" Will Morris, a sophomore, says, "I love Romeo's pictures; they are so, so cute. It really seems like he runs his own account." Preston Willett, a freshman, says, "I looked at Romeo's Instagram account a few weeks ago, and he had around 500 followers, and now he has 5,000 followers. It is absolutely amazing how much his account has grown and that he has so many followers."
Who knows what the future holds for @romeothepug, but his account is sure to continue to grow. The Manheim family hopes to achieve 10,000 followers by the end of the year, and if Romeo's account continues to grow at the current rate, it will surely reach this goal. Don't forget to follow Romeo on Instagram at @romeothepug.
Leave a Comment
About the Contributor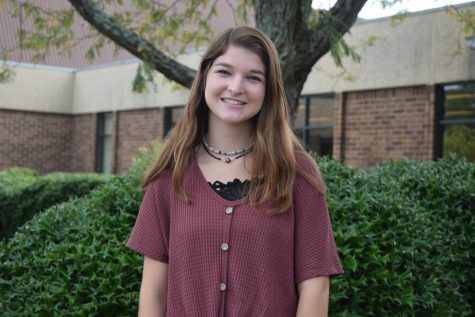 Ashley Manheim, Midlo Scoop Editor-in-Chief
Ashley Manheim, Editor-in-Chief, Class of 2020