Bonding Over Breakfast
Trojans for Tomorrow New Student Breakfast
On October 26, 2016, during Midlo Morning, the aromatic, mouthwatering scents of muffins, donuts, and other delicious breakfast treats wafted through the Midlothian High School closed commons, as many new Midlo students and Trojans for Tomorrow members filed into the room.The new students lined up to pile their plates high with the appetizing food, while they chatted with other students and teachers.  Trojans for Tomorrow, a club dedicated to assisting students and making Midlothian a safe environment for all, greeted all the new students at the New Student Breakfast and even got to know them a little bit better.
Principal Shawn Abel kicked off the breakfast by greeting everyone and talking about how he hopes to get to know all of the new students better. Also, Trojans for Tomorrow sponsor, Mrs. Stacy Shore, spoke to the students. She shared the importance of getting to know your peers and making sure that new students feel comfortable in the school. One of the new students, Erin Junkmann, says, "I had a great time at the breakfast. I really enjoyed meeting other new students and the club members." Mrs. Shore asked the new students questions in an attempt to learn more about them. Students shared that they traveled to Midlothian from James River, Thomas Dale, and even a student who moved here from Spain. Trojans for Tomorrow member Kendall Lewis says, "I can't believe that a student moved here all the way from Spain! I think it is so cool that there are such diverse people that attend Midlo High."
Trojans for Tomorrow President Katherine Wroblewski,  Historian Lauren Hensley, and Vice President Devyn Vernier also spoke to the students, telling everyone that it does not matter if a student is a freshman or a senior, new student or old;  they all can join Trojans for Tomorrow. The fantastic club commits to making an impact on the school and teaching people to be kind, outgoing, and friendly. Getting involved can be a blast, and in Trojans for Tomorrow, members are active, help their community, and make Midlo a better place for everyone. The club's next meeting takes place next week!
The New Student Breakfast's success was undeniable, and Trojans for Tomorrow's next event is sure to be just as big a hit.
About the Contributor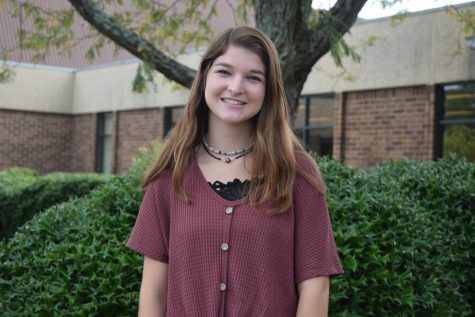 Ashley Manheim, Midlo Scoop Editor-in-Chief
Ashley Manheim, Editor-in-Chief, Class of 2020