Pets Rock Halloween
Midlo Students and Faculty Adorn Their Pets for the Holiday
Fall is a season full of parties, candy, and lots of fun, but how do pets feel about Halloween? Obviously, they enjoy the occasional piece of Halloween candy, and they love the houses that give out bones and cookies when their owners trick-or-treat. During Halloween, lots dog-loving pet owners enjoy dressing up their pups and sharing their holiday fun with a cute dog. Are the proud pups too self-conscious to prance around the neighborhood in a crazy costume? Pets like Boo and Doug the Pug inspire people to dress up their pets with their hiliarious faces and adorable costumes. Halloween is the perfect time to show off your adorable pet in a cute oufit or scary costume, and many Midlo students have climbed aboard the pet-dressing train.
Freshman Colby Valiente says, "I love dressing my little pug up for Halloween. He loves the attention and the costumes. This year, we dressed him up as Yoda, and he's going to look absolutely adorable in his costume." Sophomore Anna Chen says, "I love dressing up dogs because they look adorable, and when they stick out their tongues, it makes them look like their smiling. Everybody loves dogs, especially when they dress up super cute costumes." Maddie Sheldon, a freshman softball player, says she loves dressing up her dog for the holiday because "it shows her Halloween spirit." Cassidy Shelton, a Midlo freshman, says she enjoys dressing up her dog because "it always puts a smile on my face," and "it makes Halloween so much more fun." Also, Maggie McDermott exclaims that there's "no greater fun than dressing up her dog." Audrey Longstaff, Freshmen Class VP, adores dressing up her adorable kitten because she "likes to get spooky." Her cat, Peaches, dressed up as a shark for this Halloween. Lauren Hensley, a sophomore, loves dressing up her dog, Sami, and this year, she dressed up her pup as the Richmond Spider. Midlo student Daniela Nadeau dressed up as Princess Leia and her fuzzy pup, Gus, went full out in his Chewbacca costume. Ashley Manheim, a freshman, and Luke Manheim, a junior, say, "Dressing up our dog is a blast. We love seeing his cute expressions, and he enjoys it too." Their somewhat famous pug, Romeo, (or @romeothepug with 1,000 followers on Instagram), loves to dress up so much that they buy him several costumes every Halloween.
Spanish teacher, Sra. Sarah Fasulka, delights in dressing up her dog all the time but especially at Halloween. For Halloween 2016, she dressed up her sweet pup as an endearing sled-dog. English teacher Mrs. Molly Palenski thinks dressing up her charming, cuddly, and lovable little Pekingese, Zeke, makes Halloween all the more fun. She says, "My little Zeke picks out a costume to prance around in every year. He's a spirited dog, and we love spending Halloween together!" Mrs. Palenski dressed up as a  Reese's Peanut Butter Cup,  and Zeke dazzled onlookers in his adorable bat costume. Also, Mrs. Amy Tucker, an English teacher, dressed up her puppy, Laurel Beth, as a lion, thus creating "Lion Beth." English teacher Mrs. Jackie Tully dressed up her dog, Rocco, as Santa. His delightfully cute expressions make it impossible not to smile.
This year's Halloween was definitely one to remember for dogs, cats, and humans alike.
Leave a Comment
About the Contributor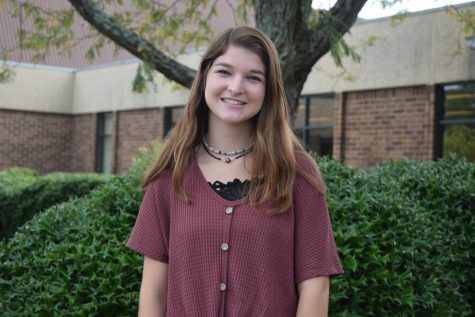 Ashley Manheim, Midlo Scoop Editor-in-Chief
Ashley Manheim, Editor-in-Chief, Class of 2020