Students perform at the annual Night of Stars
City Lights and Just for Show perform the annual production of Night of Stars
Under direction of Atticus Finn, Midlothian High School's performing arts teacher, students in City Lights and Just for Show dance ensembles gathered for the annual performance of Night of Stars on the Friday, Feb. 17, night.
Set to the theme of Pleasantville, a 1998 black and white rom-com that transitions into color, City Lights performed a recreation of the infamous musical that consisted of several choreographed dances and solo performances. The audience was captured in awe from McKenzie Saddington, Caroline Grabill, Liv Hughes, Natasha Forest and more who all sang solo.
"The theme for Just for Show was set to 80s disco and for City Lights it was Pleasantville," Bella Vanderborg, 12, said. "I liked the Just for Show theme, it was really fun, especially with the outfits."
"It was kinda stressful, you know, nerves and everything, but I think we killed it." Caroline Grabill, 12, said. "It's just so nice to have an audience finally. It feels like it's all clicking together.
First on stage, the girls City Lights ensemble, performed a series of slow and upbeat songs such as Mr. Blue Sky, Viva Las Vengeance, Fake Happy, True Colors, and Love Me Back to Life.
"I think both groups did really well under the circumstances," Anna Jackson, 12, said. "Our lights weren't working, but we performed and did it anyway."
Despite the presence of colorful stage lights, the performers were still able to produce their show with music played by Hot Lips, the show choir band. After City Lights performed, the Just for Show co-ed dance ensemble took to the stage, performing their take on the song Dancin' Shoes. 
"I had a lot of fun and I'm glad I could do it," Bella Vanderborg, 12, said. "I'm excited for the competition season to kick off."
"I think the show was really fun," Darryl Omuria, 11, said. "It took a lot of hard work, but we're getting there. I'm excited for the competitions."
Midlothian High School's Just for Show and City Lights will go on to perform at competitions every weekend for the next month.  Congratulations to McKenzie Saddington for receiving an award for Overall Best Soloist, and congratulations to Show Choir for earning Best Show, Best Stage Crew, Best Band, Best Costume, Best Vocals and placing first in their division.
Leave a Comment
About the Contributor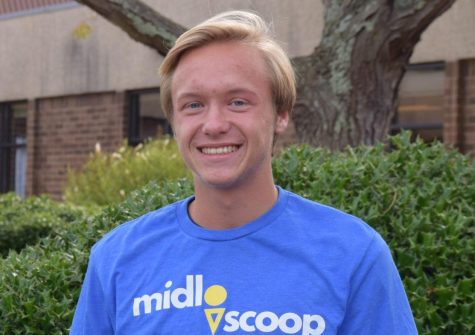 Kyle Reeder, Multi-Media Editor
Kyle Reeder, Class of 2023

Kyle Reeder has been on staff for four years and is the Multi-Media Editor. Outside of school, he runs cross country and...