Juniors defeat seniors in Spring Powder Puff Game
A timeless high school tradition has recently found its way back to Midlo after ongoing COVID-19 restrictions pushed back the highly anticipated event for nearly two years. Taking place on April 14, 2022, the Powder Puff football game has girls from both the senior and junior classes squaring off against one under the leadership of their male classmates. The junior and senior classes have had a brewing rivalry this year, which began with the seniors taking the win at the Homecoming pep rally and then the juniors defeating the seniors at the spring pep rally. All the past competitions culminated in this last showdown between the two classes.
Prior to the start of the game, athletes and spectators stood for a moment of silence while the National Anthem was performed by members of Midlo's chorus. Both teams then took their positions on the field and prepared for the competitive match-up to come. After no significant yardage was gained by the seniors during the first play, they turned the ball over to the juniors. The Class of 2023 then successfully made a quick pass to their quarterback Ellie Mulligan who ran the ball to running back Madelyn Ratdke, paving the way for the first touchdown of the game. The crowd soon erupted in cheers but was silenced when the juniors failed to obtain a two-point conversion, leaving the score at 6-0.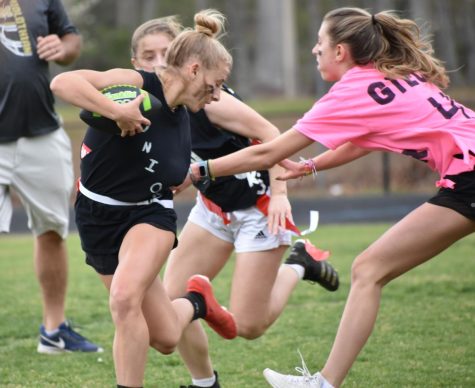 From that moment on, the game was virtually junior dominated. As the first half came to an end, the juniors ran the ball to Radtke at the 20-yard line on the opposite end of the field. Radtke was able to seamlessly navigate her way through the senior's defensive line, running a total of eighty yards for her second touchdown. This was followed by a swift two-point conversion that put the score 12-0. Coming off a junior victory at the spring pep rally only a week prior, the junior class roared with enthusiasm as they watched their classmates find success on the field once more. With only minutes remaining in the first half, however, the seniors completed a clean pass into the end zone. After a successful two-point conversion, the seniors brought the score up to 12-8.
Moving into the second half, tensions remained high between the two classes. Radtke found herself once again running the ball through the opposing defense and on up to the goal line, making the final score 18-8. With this, the juniors emerged victoriously.
"I couldn't do it without my teammates! They blocked perfectly and made my job easy. The game was so much fun and I am glad I could bring the win home for the juniors," junior Ratdke said moments after the junior win.
With the Powder Puff tradition back in play, the juniors look to their senior year in hopes of securing another win.
Leave a Comment