Foreign students facing mistreatment at Ukrainian border
Understanding the Russia and Ukraine Conflict
As Russian troops make their way through Ukraine, many of those living in Ukraine have decided the best course of action in regards to protecting themselves and their families is to leave the country. Many students from Africa and India have reported neglectful and violent racist mistreatment as they attempt to cross the border.
Rachel Onyegbule, a Nigerian medical student studying in the city of Lviv, described her experience to CNN. According to Onyegbule, she and other foreigners were forced off a public transit bus heading towards the Polish border and the bus left with only Ukrainian citizens on board. Stranded in Shehyni, a Ukrainian border town, she was stranded and forced to endure harsh conditions.
"
My body was numb from the cold and we haven't slept in about 4 days now. Ukrainians have been prioritized over Africans — men and women — at every point. There's no need for us to ask why. We know why. I just want to get home. "
— Rachel Onyegbule
Another medical student, Saakshi Ijantkar from India, has also shared her story with CNN.
"There are three checkposts we need to go through to get to the border. A lot of people are stranded there. They don't allow Indians to go through. They allow 30 Indians only after 500 Ukrainians get in. To get to this border you need to walk 4 to 5 kilometers from the first checkpoint to the second one. Ukrainians are given taxis and buses to travel, all other nationalities have to walk. They were very racist to Indians and other nationalities," Ijantkar said.
She continues, recounting her experience at the second checkpoint.
"They were very cruel. The second checkpoint was the worst. When they opened the gate for you to cross to the Ukrainian border, you stay between the Ukraine and Poland, the Ukrainian army don't allow Indian men and boys to cross when you get there. They only allowed the Indian girls to get in. We had to literally cry and beg at their feet. After the Indian girls got in, the boys were beaten up. There was no reason for them to beat us with this cruelty…I saw an Egyptian man standing at the front with his hands on the rails, and because of that one guard pushed him with so much force and the man hit the fence, which is covered in spikes, and he lost consciousness," Ijantkar said.
She noted many foreign students waited for at least a day at these checkpoints, but she had eventually returned back to Lviv city after enduring freezing temperatures without access to food or water.
In response to the quickly growing number of foreign students sharing stories of their mistreatment, Andriy Demchenko, a spokesman for the Border Guard Service of Ukraine, claims that the guards at the border are working within the law and there is no segregation based on the nationality of the travelers.
"
In order to speed up the process and allow larger amounts of people to cross, the government has simplified the procedure of the border crossing as much as possible. Due to the increase in the volume of individuals crossing, people have to stay in long queues. However, I can state that everything happens according to the law. There is absolutely no division by nation, citizenship, or class at the border."
— Andriy Demchenko
Some foreign students have stated that they don't blame the Ukrainian authorities for prioritizing Ukrainian citizens and they are more so upset with their own governments for not helping their people leave the conflict area. Onyegbule, for example, criticized the Nigerian government and its apathy towards those still in Ukraine.
"
[The] Nigerian government is being their usual nonchalant self. There are many of us in Ukraine. They can't just leave us like this. It's so sad but we are used to the bad governance in Nigeria…[Nigerian officials] would have been so helpful in Ukraine, we were looking for someone to speak on our behalf there."
— Rachel Onyegbule
When refugees had crossed the border into Poland, they had escaped the war raging in Ukraine, but not racist and nationalist mistreatment. OKO.press, a Polish news site, reports that refugees of color and members of aid organizations were attacked by a group of aggressive Polish nationalists and told to "go back to their country."
There have also been rumors circulating around Polish social media of refugees, especially those of color, committing violent crimes, causing distrust between residents of Poland and the refugees. Both the police and officials from Przemyśl City Hall have stated these rumors are "fake news" and they have not received any actual reports of these crimes.
Further, at the Przemysl train station, those from Africa and Afghanistan who had crossed the Ukrainian border were still not being prioritized. Oscar Broz, a Polish volunteer, was ashamed of the treatment of these refugees and often advised them to pretend they had lost their passports so they would have less difficulty getting access to Polish intercity trains. Unfortunately, Ukrainians are being given priority," Broz said.
According to Marcin Sośniak, head of the Equal Treatment Department of the Human Rights Commissioner, Polish authorities are "aware of some problems" related to problems non-Ukraine citizens are having finding official help.
European authorities emphasize that everyone seeking asylum from the conflict in Ukraine deserves help, no matter their skin color or nationality. As announced by Janez Lenarčič, European commissioner for Humanitarian Aid and Crisis Management, the conflict could "become the largest humanitarian crisis on our European continent in many, many years," and it is "extremely important that every person escaping from aggression or war should be granted international protection. No discrimination, regardless of skin color or nationality. We are all human."
Leave a Comment
About the Contributor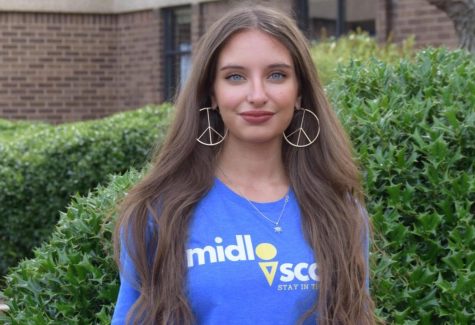 Avery Belisle, Freelance Writer
Avery Belisle, Class of 2023

Avery Belisle has been on staff for two years and is a freelancer this year. Outside of school, she loves learning new...