Message from Dr. Abel
Midlo Principal's Message: February 2, 2022
The strength of the Midlothian High School Community has always been our ability to come together and thrive despite our various backgrounds, differences, and beliefs. While decisions made during this pandemic seem to have pulled some people further apart, I sleep better at night knowing that our students have grown tremendously, together,  as demonstrated last week.  Part of our Community of Excellence is our ability to keep moving forward despite circumstances that are out of our control and beliefs that are different from our own.  
Our Midlo family genuinely makes me proud every single day. I challenged our students to please continue to treat one another with respect and understanding, demonstrating that we are a true Community of Excellence.  
What's Happening
Be sure to check out our daily announcements to remain informed. Information related to club news, tutoring options, and more can often be found on our school's daily announcements.
Daily Announcements
Click here at any time to view our daily slideshow announcements or our weekly video announcements
Click here to view this week's video announcements
COVID Updates
Please check out the email shared earlier today from CCPS that references the updated test to stay program for unvaccinated students who are identified as close contacts.  Contact our school nurse ([email protected]) to participate in this program if you are identified as a close contact to a student or teacher who tests positive for covid.
Black History Month
We are celebrating Black History month with the theme "Celebrating Representation, Identity, and Diversity!" During this time, we will celebrate and recognize the contributions that African Americans have made to our country. Friday's will be spirit days as we celebrate the culture! We ask that your student wear the colors below each Friday!
1st Friday (2/4) – Red (This is also GO RED for Women's Heart Health)

2nd Friday (2/11) – Student Holiday / Staff Work Day

3rd (2/18) – Green

4th (2/ 25) – Black
For all things Black History related, check out the Black History Hub! bit.ly/midloblackhistoryhub
CCPSOnline Registration Opens Feb. 1 for the 2022-23 School Year and Summer
CCPSOnline offers a comprehensive catalog of high school credit classes taught by Chesterfield County Public Schools teachers. Students can take one, two or all of their classes in a no-walls, no-bells, no-limits virtual environment. Part-time students take courses to free space in their schedule, access those not offered at their school or get ahead of graduation requirements. Full-time students leverage the flexibility of online learning to meet the unique needs of their lifestyle. Students should talk to their school counselor about including CCPSOnline in their schedule. Registration runs February 1 through April 29 for the 2022-23 school year and for summer 2022.
Congratulations
Congratulations to our January Students and Employee of the Month award recipients.
Employee of the Month: Ms. Mack
Student of the Month: Sophie Rose Marusco
Student of the Month: Ajla Vehab
PTSO News
Nominating Committee Volunteers Needed   
We need three volunteers to help with the election process for the PTSO Board. It is a manageable time commitment.  Volunteers would need to attend the March, April and May PTSO meeting at 7 P.M. on the second Wednesday of each month.  Guidance will be provided to help us with this procedural task.  
If you are interested in volunteering please contact [email protected]
Post Prom Party Volunteers Needed….. YAY!
Prom will be here before we know it! Help us help our kids to celebrate safely after they attend prom. Post Prom is scheduled for April 23 from 11:30 A.M. until 2 P.M. located at the school.
We are looking for committee heads to run specific parts of the party. You may chair alone or with a favorite co-chair. We need chairs to; organize the food, coordinate the volunteers, organize the game set up and tear down, and to organize the set up and tear down of the event. We have contact information and previous chairs plans to help you out!
Please email Damien Dames [email protected] or Kristen Sanders Walton at [email protected] to volunteer.
Other News:
We will be selling two different Midlothian High School Logo stickers to students during lunch Tuesday, February 1 – Friday, February 4. The stickers will be $2.00.  
Again a huge THANK YOU to everyone who made a donation for the staff gift card drive. We were able to purchase $25.00 gift cards for all 190 staff members! We purchased a great variety from our local RVA restaurants and shops.  Your donation helped support your school and local business community.  We truly appreciate your support to make the upcoming luncheon a great treat for the amazing Midlothian staff.
 Our next Meeting will be held Wednesday, February 9 at 7 P.M. All PTSO members are always welcome.
Vote for Midlo's New T-Shirt Design
Visit https://bit.ly/3FUXKlz to vote (case-sensitive).  These t-shirts were created by Midlo students.  
Athletic News
Great news – Midlothian HS is now using GoFan full-time for all home events. Our Director of Student Activities, Ms. Collins, will provide specific information and directions to purchase tickets to school events electronically.
Attention Junior Students
Do not forget that CCPS is providing every junior student the opportunity to take the SAT for free on March 25, right here at Midlo.  Junior students should have received their feedback from the PSAT assessments the past two years and they are encouraged to use those resources to prepare for their March SAT assessment.
CCPS also provides SAT workshops – details available on the CCPS website.
Midlothian HS hopes to provide some additional resources and preparation sessions as well. More details to follow.
Attention All Student-Athletes – an Important  Message from Your Athletic Trainer
Midlothian HS is going to begin the spring season with a new "Tryout Card" system in place. Please review the flyer  for more information and pick up dates for the 2022 spring season. This will be implemented next year for all seasons, so please take a look in order to be familiar with the expectations for next year. New dates will be communicated appropriately for future seasons. This will reduce coaches having to sign players up or players not having proper paperwork on the day of tryouts.
Online registration via: midlothian.rschoolteams.com is required for each athlete to try out for a sport. In addition to the required forms, each athlete MUST retrieve a tryout card to turn in to the coach on the first day of tryouts signifying they have all necessary paperwork turned in.
Spring Sports begin Feb 21, 2022.
Support PTSO
Students don't forget you can purchase Midlo stickers during lunches starting February 1 – 4, 2022 for $2.00 exact change.  
Homework Helpers
The Homework Helpers Tutoring/Mentoring Program is now accepting applications for tutors for the spring tutoring session-beginning February 7 – 8, 2022. This is the perfect way to give back, earn community service hours, and enhance your college resume all at the same time! Don't wait! Pick up your application in the office TODAY!!—Tutoring positions ARE limited!!
COVID-19 Testing Info
Tech Center Applications
Attention all rising 11th and 12th grade families!! The application for the tech center opened on January 18. If your student is interested in applying for a tech center program, please have them visit thetechcenter.info to apply.
Course Selection – Counselor Meetings
Individual student scheduling meetings with students will start the week of January 24 and conclude March 11. At that time, counselors will discuss course selections for next year, graduation requirements and post-graduation plans.
Nominate an Outstanding Teacher for an R.E.B. Award
Nominate outstanding #oneCCPS teachers for R.E.B. Awards for Teaching Excellence! The program is accepting nominations through 5 P.M. February 22. About 15 outstanding central Virginia teachers are selected each year to receive amazing grants up to $15,000 to support professional development. Award winners have earned graduate degrees, climbed mountains, traced their ancestors and met peers from around the world — all to reignite their own passion for learning and to pass it on to their students. Eligibility requirements, deadlines and instructions can be found at www.cfrichmond.org/reb.
It's Budget Season for CCPS
Superintendent Merv Daugherty will present his 2022-23 budget proposal during the January 25 School Board budget work session, and the School Board will hold community town halls to gather community feedback. Click here for the budget calendar, including these town halls:
Clover Hill District town hall: 6:30 P.M. Feb. 2 at Clover Hill High

Midlothian District town hall: 6:30 P.M. Feb. 2 at Robious Middle

Matoaca District town hall: 6:30 P.M. Feb. 7 at Cosby High

Town hall in Spanish: 6:30 P.M.  Feb. 7 at Chalkley Elementary
Course Selection – Counselor Meetings
Individual student scheduling meetings with students will start the week of January 24 and conclude March 11. At that time, counselors will discuss course selections for next year, graduation requirements and post-graduation plans.
Attention Seniors!
2021-22 Graduation Ceremony
Mark your calendars for:  7 P.M. Monday, May 23, 2022 at the Siegel Center. More information to share as the date nears.
Scholarship Opportunities
Please click here (and check back frequently for updates) for updated scholarship information
Leave a Comment
About the Writers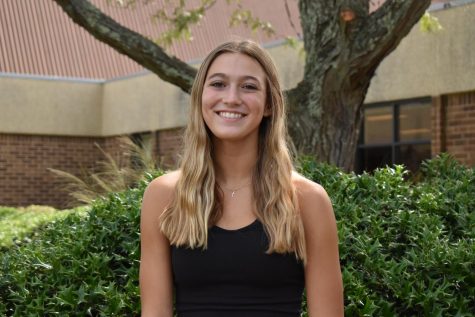 Lilly Moidel, Midlo Scoop Staff
Lilly Moidel, Class of 2024

Sophomore Lilly Moidel has been on staff for two years, and enjoys writing about sporting events, and stories that involve...