Message from Dr. Abel
Midlo Principal's Message: January 26, 2022
On Tuesday, January 25 the Chesterfield County School Board voted to approve a motion "to amend its existing COVID-19 Mitigation Plan to include providing parental choice for face masks, and implementing the new Interim Guidance for COVID-19 prevention in Virginia PreK-12 schools as set forth by the Virginia Department of Education and the Virginia Department of Health on Jan. 21, 2022. This change will be effective, Thursday, Jan. 27, 2022.
Documentation of parental choice is not required for high schools, as we respect that this decision will involve a family discussion resulting in a student either wearing or not wearing a mask when they arrive at school each day.
At this time, a federal public health order remains in effect for the use of masks on public transportation, including school buses. Please ensure that if your student is riding a bus, they are aware of this requirement and have a mask each day.
Masks continue to be available for students who request one, including KN95 masks which may be picked up in the front office. Information about Individual Healthcare Plans for students with medical needs can be found by going to http://mychesterfieldschools.com/parents/student-health-and-safety/ (located under General Health Services).
Additional information about the CCPS COVID-19 guidelines can be found in the email which went out from CCPS earlier this evening or by going to the CCPS COVID-19 Guidance page.
As I had shared in my weekly message last night, I could not be more proud of the students and staff at Midlothian High School as they consistently demonstrate flexibility, compassion, and care for one another.  I am beyond confident that our students will respect one another's decision regarding the use of masks and respectfully adhere to all other mitigating practices to ensure we continue to exemplify a true Community of Excellece.
What's happening
Be sure to check out our daily announcements to remain informed. Information related to club news, tutoring options, and more can often be found on our school's daily announcements.
Daily Announcements
Click here at any time to view our daily slideshow announcements or our weekly video announcements.
Click here to view this week's video announcements.
Attention Junior Students
Do not forget that CCPS is providing every junior student the opportunity to take the SAT for free on March 25th, right here at Midlo.  Junior students should have received their feedback from the PSAT assessments the past two years and they are encouraged to use those resources to prepare for their March SAT assessment.
CCPS also provides SAT workships – details available on the CCPS website.
Midlothian HS hopes to provide some additional resources and preparation sessions as well.  More details to follow.
Athletics
Tickets for all events on Tuesday-Thursday are available starting at 1 P.M. the day of the game until the end of the game. Tickets are $6 and can be purchased by visiting: :https://osp.osmsinc.com/ChesterfieldVA/BVModules/CategoryTemplates/Detailed%20List%20with%20Properties/Category.aspx?categoryid=AF063.
 If they are NOT brought online they are $7 (EXACT CHANGE) at the Door!
No ID or account is needed to purchase tickets online.
Attention all Student Athletes – an important  message from your Athletic Trainer
Midlothian HS is going to begin the spring season with a new "Tryout Card" system in place. Please review the flyer  for more information and pick up dates for the 2022 spring season. This will be implemented next year for all seasons, so please take a look in order to be familiar with the expectations for next year. New dates will be communicated appropriately for future seasons. This will reduce coaches having to sign players up or players not having proper paperwork on the day of tryouts.
Online registration via: midlothian.rschoolteams.com is required for each athlete to try out for a sport. In addition to the required forms, each athlete MUST retrieve a tryout card to turn in to the coach on the first day of tryouts signifying they have all necessary paperwork turned in.
Spring Sports begin February 21, 2022.
Support PTSO
Students don't forget you can purchase Midlo stickers during lunches starting February 1 – 4 for $2.00 exact change.  
Homework Helpers
The Homework Helpers Tutoring/Mentoring program is now accepting applications for tutors for the spring tutoring session-beginning February 7/8. This is the perfect way to give back, earn community service hours, and enhance your college resume all at the same time! Don't wait! Pick up your application in the office TODAY!—Tutoring positions ARE limited!
Congratulations to our Scholastics Arts Winners
GOLD KEY WINNERS: Emma Precopio, Alayna Underwood (2).
SILVER KEY WINNERS: Susannah Andress, Max Atzinger, Kaden Baker (2), Julia Beck, Tiffany Bedser, Lindsey Clennan, Caroline Moore, Jessica Thomas, Mackenzie Yates (6 – full portfolio).
HONORABLE MENTIONS: Emerson Boyd (2), Spencer Candland, Isabella Lee, Lorrin Mercer, Caroline Moore, Cadence Newman, Nicole Quiram, Kendall Salmon, Gabrielle Salomone (2), Ava Wladar (6), Mackenzie Yates.
COVID-19 Testing Info
Tech Center Applications
Attention all rising 11th and 12th-grade families! The application for the tech center opened on January 18. If your student is interested in applying for a tech center program, please have them visit thetechcenter.info to apply.
CCPS Online 2022-2023 
Registration for summer and school year CCPS online will open on February 1st. Each course is $325. Registration can be completed at https://mychesterfieldschools.com/ccpsonline/ .
Course Selection – Counselor Meetings
Individual student scheduling meetings with students will start the week of January 24 and conclude March 11. At that time, counselors will discuss course selections for next year, graduation requirements, and post-graduation plans.
CCPS Resources
Virginia Department of Health will host vaccine clinics around the county:
The Virginia Department of Health has vaccine clinics planned at the following Chesterfield locations and dates. COVID-19 vaccines are available at no cost to the public. Please note: you must register in advance. QR codes and URLs are available on the flyers linked below to direct you to the registration website.
Saturday, Jan. 29, from 10 A.M. to 3 P.M.
Additionally, the Chesterfield Health District Rockwood Community Vaccination Center, located at 10161 Hull Street Road, is open 8 A.M.-6 P.M. Monday through Saturday. To make an appointment at the Rockwood Community Vaccination Center, visit vaccinate.virginia.gov or call 877-VAX-IN-VA (877-829-4682).
Nominate an outstanding teacher for an R.E.B. Award:
Nominate outstanding #oneCCPS teachers for R.E.B. Awards for Teaching Excellence! The program is accepting nominations through 5 P.M. February 22. About 15 outstanding central Virginia teachers are selected each year to receive amazing grants up to $15,000 to support professional development. Award winners have earned graduate degrees, climbed mountains, traced their ancestors and met peers from around the world — all to reignite their own passion for learning and to pass it on to their students. Eligibility requirements, deadlines and instructions can be found at www.cfrichmond.org/reb.
It's budget season for CCPS
Superintendent Merv Daugherty will present his 2022-23 budget proposal during the January 25 School Board budget work session, and the School Board will hold community town halls to gather community feedback. Click here for the budget calendar, including these town halls:
Bermuda District town hall: 6:30 P.M. Jan. 26 at Thomas Dale High

Matoaca District town hall: 6:30 P.M. Jan. 27 at Matoaca High

Dale District town hall: 6:30 P.M. Jan. 31 at Meadowbrook High

Midlothian District town hall: 6:30 P.M. Jan. 31 at Greenfield Elementary

Clover Hill District town hall: 6:30 P.M. Feb. 2 at Clover Hill High

Midlothian District town hall: 6:30 P.M. Feb. 2 at Robious Middle

Matoaca District town hall: 6:30 P.M. Feb. 7 at Cosby High

Town hall in Spanish: 6:30 P.M. Feb. 7 at Chalkley Elementary
Coffee + Conversation series continues
Parents and caregivers are invited for weekly Coffee + Conversation, free virtual discussions offering helpful information. On January 26, the team will revisit the topic of behavior management. They will share specific strategies for common challenging behaviors such as not listening, aggression and backtalk. It's okay if you didn't attend the previous session, but you can check out the video from the first talk if you're interested. Click here to register. Coffee + Conversation is hosted by the CCPS Family and Community Engagement Office and Chesterfield County Prevention Services.
FACE to FACE: Families Supporting Families
On the evening of December 10, 2021, a destructive long-track EF3+ tornado impacted many areas of Kentucky including the city of Mayfield. It caused a significant amount of damage through much of the Mayfield Independent School District. Hundreds of students and their families were not only displaced but lost everything they owned.
The CCPS Family and Community Engagement office has connected with the FACE Center of Mayfield Independent School District to bring kindness and support to families that have recently experienced trauma or loss from this natural disaster.
If you are interested in writing a letter of support and encouragement, purchasing needed items or making a financial donation to help the students and families of Mayfield, click here to learn more.
Leave a Comment
About the Writers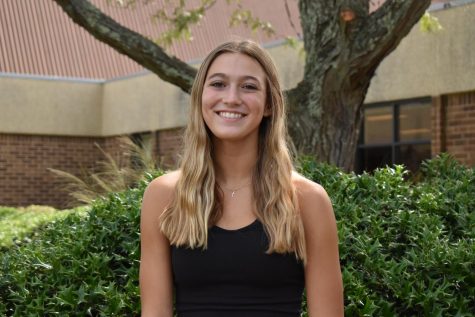 Lilly Moidel, Midlo Scoop Staff
Lilly Moidel, Class of 2024

Sophomore Lilly Moidel has been on staff for two years, and enjoys writing about sporting events, and stories that involve...