Encanto encapsulates the Columbian culture
Highlighting Columbian culture for the first time in Disney cinema history
Disney's Encanto premiered in theaters on November 24, 2021, resulting in box office sale of $215.5 million to date. Directed by Byron Howard and Jared Busch, the film is the first of its kind as it is based around Columbian culture and heritage. The movie surrounds the protagonist Mirabel who is a part of the famous fictional Madrigal family where each member possesses a magical power that helps to keep their town afloat and thriving. However, Mirabel is the only member of her family to not be granted a magical power, so the movie revolves around the character embarking on a mission to discover why this is. Along the way she also tries save her magical house that seems to be losing its magic, thus affecting the whole town. 
Apart from the unique action-packed plot, the film represents a special project since it worked to highlight Columbia in a way that has never been done before in Disney history. Encanto pays special attention to the music, bold colors and food of Colombian culture, providing a new feeling of representation for many people around the world. The music alone is infused with aspects of Colombian culture, such as incorporating hints of salsa, merengue, vallenato, guaracha and cumbia. Encanto also features mainly Colombian artists on their soundtrack, including Joe Ayarro, Sebastián Yatra, and Carlos Vives. They paid homage to their Columbian roots in each of their songs. 
Additionally, Columbian architecture, food, landscape and clothing are very important elements of the movie, all of which are consistently featured throughout the film. Common Colombian phrases and hand gestures are included in the movie as Easter eggs for the audience to spot Mirabel's story as well. The cast and producers, such as Stephanie Beatriz, Maluma, Dianne Guerrero, and Wilmer Valderrama, who worked to help make the movie come to life, were largely of Latin origin, adding to the authenticity of the film. 
Encanto continues to inspire countless individuals of Latin origin by allowing them to experience parts of the Latin and Colombian culture in a new way. With the overwhelmingly positive response from the public, other filmmakers are already on the lookout for another culture to highlight in film.
"[Encanto] has given a voice and platform to celebrate Colombian and Latin culture," Latin film reviewer Lorriane Olaya said.
Encanto's inspirational message has paved the way for both individuals and the film industry to embrace cultures from around the world.
Leave a Comment
About the Contributor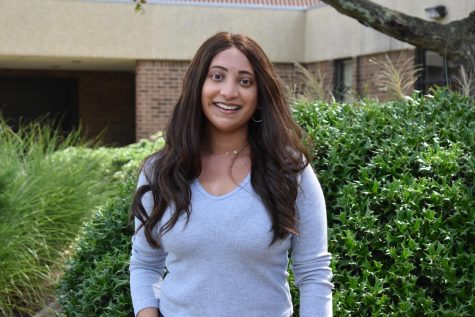 Nalia Nugara, Current Events and Special Features Editor
Nalia Nugara, Class of 2023