Shell teams up with the University of Tennessee
Layla Shell commits to the University of Tennessee
Following in the footsteps of her older sister Taylor, senior Layla Shell started playing soccer at just five years old. Taylor is the "first real reason" why Shell started playing soccer, a sport that she came to love and would eventually play all of the way to the collegiate level at the University of Tennessee, Knoxville. 
Shell has been a loyal member of the U18 Richmond United ECNL Girls Soccer Team since it was founded. She trains four days a week and plays two games during the weekends. Many individuals have inspired Shell over the years to remain committed to the rigorous schedule and have contributed to her long-lasting passion for the game, including her teammates, family and friends, all of whom have represented role models throughout Shell's youth soccer career. Shell's support system has encouraged her to constantly try new things and to be her most authentic self. 
"It's incredibly hard to not fall in love with the sport," Shell said. 
The ability to share the passion of soccer with others who love the sport as much as Shell is also a source that serves as motivation for the young athlete as she favors working with her teammates in a sport full of "trial and error" when learning new skills.
"The sport challenges players both mentally and physically, but the reward of freedom that I get from playing it is the most enjoyable feeling," Shell said 
On top of her long-lasting love for the game, soccer has provided Shell with a platform to voice her concerns about African American females being underrepresented in the sport. With that said, she is extremely honored to be looked at as a role model for young African Americans entering the world of soccer as kids have someone who looks like them. Therefore, when considering between the University of Tennessee, University South Carolina and University of North Carolina, Shell knew she wanted to go to a school where she could continue to be a role model for younger girls.
During her months spent in quarantine in 2020, Shell was able to dedicate her time to researching schools in order to find the best fit for her. Throughout the process, the University of Tennessee stood out to Shell right after their first phone call together where the school expressed their interest in her as not just a player, but as a person. Heads of the program gravitated towards her character and the way she presented herself first and foremost, which was a different approach than all the other schools she came in contact with. When discussing what her future would look like at UT, Shell knew that the school could help her achieve her goals.
"The University of Tennessee felt like a second home and I immediately fell in love with the campus," Shell said.
In the meantime, Shell looks forward to playing alongside her teammates at both Richmond United and Midlo for the final time before embarking on a new chapter in Knoxville in the fall.
Leave a Comment
About the Contributor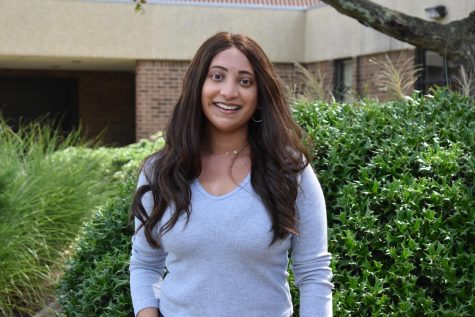 Nalia Nugara, Current Events and Special Features Editor
Nalia Nugara, Class of 2023