The most anticipated new and upcoming horror movies of the year
Halloween Movie Release Dates
As October comes to a close, families are greeted by the spookiest holiday of the year, Halloween. There are many ways Americans choose to embrace the spirit of the season, such as carving Jack O' Lanterns, adorning their homes with creepy decorations, buying costumes for trick or treating or themed parties, but none set the mood as effectively as a spine-chilling horror movie marathon. However, due to cinematic setbacks caused by COVID-19, many of the new and upcoming thrillers have had to alter their release dates. Despite the delays, most anticipated horror movie productions have announced that they will be coming to streaming services and theaters near you.
New and Upcoming Sequels and Reboots:
Lately, everyone has noticed the inevitable increase in film sequels and reboots that accompany the development of cinematography equipment and technology. This technology now enables filmmakers to provide more realistic, striking, and adventurous approaches to beloved movies that were previously unattainable. Although most remakes have left audiences underwhelmed, expectations are high for the upcoming reboots and sequels of iconic horror classics.
Candyman – August 27, 2021 (released)
Rotten Tomatoes Rating: 84%
Candyman is a supernatural slasher about an accidentally summoned soul who just happens to be the horrifying "Candyman." With a hook for a hand and a taste for murder, the Candyman was believed to be just an urban legend in Chicago, until a skeptical artist makes a treacherous mistake.
Paranormal Activity: Next of Kin – October 29, 2021 (released)
This movie is the seventh installment of the Paranormal Activity franchise. Presented in the form of a menacing self-made documentary centered around Margot, a naive girl attempting to meet her biological family and rediscover her roots. She begins to notice small clues pointing to dangerous paranormal activity and it becomes obvious that this is not your average family reunion.
Resident Evil: Welcome to Raccoon City – November 24, 2021
Raccoon City was previously the home city of a major corporation called Umbrella. Once Umbrella abandoned the town, it fell into a state of disarray. Now, several survivors find themselves attempting to make it through the night in this dying town, all the while discovering the dark, evil secrets of Umbrella.
Scream 5 – January 14, 2022
Twenty-five years after the brutal murders in Woodsboro, California, a new killer emerges, ready to fill the shoes of "Ghostface." Through targeting a group of unsuspecting teenagers in the small town, this new killer is practically dying to resurrect the past through any means necessary.
Halloween Kills – October 15, 2021 (released)
Michael Myers, the embodiment of evil, has escaped from the trap of Laurie Strode and is dead-set on continuing his intense history of carrying out grisly murders. With Laurie in the hospital, the people residing in the town of Haddonfield were inspired by her to band together and form a vigilante group to end Michael's ritualistic reign of terror forever.
Halloween Ends – October 14, 2022
Halloween Ends is planned to be the final act to the Halloween franchise, composed of more kills, more screams, more cameos and more Michael Myers than ever before.
Hellraiser – 2022 (exact date – TBD)
The L Word's Jamie Clayton will be starring as "Pinhead" in the reboot to the iconic cult-classic Hellraiser, which is a nod to the original script and the book, in which Pinhead was female. 
Texas Chainsaw Massacre – 2022 (exact date – TBD)
Although this movie is intended to serve as a direct sequel to the original 1974 Texas Chain Saw Massacre, this movie paints the entire franchise in an entirely new light.
New and Upcoming Stand-Alone Movies
Many Midlo students are bored of the constant sequels and reboots, so they are more excited for the upcoming original horror movies. 
"
[I prefer] originals…I like unique concepts. I find them more scary because it's something we've never seen before. After seeing the same thing over and over you become immune to it"
— Lyvi Hughes
Antlers – October 29, 2021
Rotten Tomatoes Rating: 66%
Heavily based on Nick Antosca's short story about the Wendigo, The Quiet Boy, Antlers is a supernatural horror focusing on a brother-sister duo in Oregon discovering the frightening secret of a young boy.
Last Night in Soho – October 29, 2021
Rotten Tomatoes Rating: 73%
Starring fan favorites Matt Smith and Anya Taylor-Joy, Last Night in Soho is centered around fashion designer Eloise who miraculously can travel back in time to the '60s where she is put into the body of Sandy, an aspiring singer. Soon, however, this mysterious gift's dangerous consequences begin to twist reality.
Morbius – January 28, 2022
Good news for Marvel fans! Morbius is centered around, who guessed it: Morbius, a Spider-Man antagonist from the '70s. The movie provides an in-depth look at how Morbius accidentally turns himself into a vampire while trying to cure himself of a rare blood disease.
Malignant – September 10th, 2021
Rotten Tomatoes Rating: 76%
Directed by The Conjuring filmmaker, James Wan, Malignant is a supernatural horror film about a woman named Madison who suffers from horrifying visions of violent murders, which she later finds out are happening in real life. This movie was renowned for its incredible plot twists, sure to have one on the edge of their seat all one hundred and eleven minutes of it.
New and Upcoming Female-Led Films:
Horror as a genre, in both film and writing, has been dominated by men since its creation in the 1700s. The wrongful portrayal and mistreatment of women in horror movies often reflects this trend and is rooted in the male fear of the abject. However, this has not prevented women from joining the worldwide fascination with horror and becoming avid fans of the genre. Those within the movie business, such as Ana Lily Amirpour, Ruth Paxton, Samantha Schweblin, Claudia Llosa and Julia Ducournau, have dedicated their creative careers to it, setting out to redefine horror from a woman's perspective.
"
We have found ourselves in [these] movies. Through the final girls or the monstrosities, we can see ourselves. It's a sort of reflection of what we're made to feel like, and we both find solace in the controlled environment of fear, empathy, and humanity in the monsters the characters run from"
— Junior, Natalie Comer, about experiencing horror as a female horror fan.
All of the movies listed below are not only written for the female gaze but are directed, written and led by women.
Titane – October 1, 2021
Rotten Tomatoes Rating: 93%
Directed and written by Julia Ducournau, Titane is a uniquely grotesque film exploring the desires of a murderer who develops an attraction to machines after surviving a horrible car crash as a young girl, which caused her head to be fitted with a titanium plate. Titane embraces the undeniable power of young female horror villains. Called "the most shocking film of 2021," and serving as the first automotive body horror film, this is most certainly a horror film that will never be forgotten.
Mona Lisa and the Blood Moon – September 5, 2021
Rotten Tomatoes Rating: 65%
Directed by Iranian-American Ana Lily Amirpour and starring fan-favorite celebrities, including Kate Hudson and Craig Robinson, Mona Lisa and the Blood Moon takes its inspiration from fantasy-adventure movies of the '80s and '90s. The movie takes viewers on the journey of a young girl with mystical powers who escapes from an asylum in New Orleans.
A Banquet – April 1, 2022
Directed by Ruth Paxton, A Banquet is centered around a grieving widow and her daughter, who believes her body is no longer her own but is being used by a higher power. This nihilistic enlightenment her daughter experiences pushes her to her limits, further than she could've ever imagined.
Fever Dream – September 20, 2021
Rotten Tomatoes Rating: 70%
Based on the novel Fever Dream by Samantha Schweblin and directed by Claudia Llosa, this Spanish psychological thriller explores environmental crises, spiritual cures and the unique bond between parent and child through the story of two mothers whose lives become intertwined.
Although the production of many of these movies has been delayed severely due to pandemic-related concerns and, therefore, cannot be enjoyed on Halloween, the new spread of release dates allows fans enjoy new macabre movies all year round instead.
Leave a Comment
About the Contributor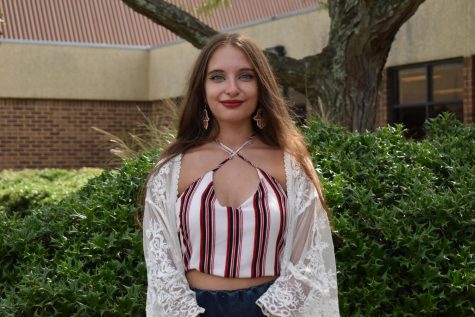 Avery Belisle, Midlo Scoop Staff
Avery Belisle, Class of 2023

For Junior Avery Belisle, writing for Midlo Scoop is a first.  She enjoys highlighting unique cultural practices and different...