Freshmen and New Students start their journey at Midlo
Freshmen and transfer student orientation 2021
Freshmen and transfer students began their journey at Midlo on Monday, August 23, 2021, as an orientation day. This provided an easier transition into high school, as they spent the day learning the halls of their new home and building relationships with their teachers. Dr. Denise Bowes took the liberty of organizing the freshmen and new student orientation with the help of Mr. Danny Abell, Ms. Laurie Jones, and the Sidekicks (student volunteers). This event takes place before the rest of the student body returns and crowds the halls, allowing for an easier transition for the new Trojans. 
The doors opened for students at 7:50 with the help of drumline, cheerleaders and Trojanettes who greeted the newcomers. The Sidekicks welcomed the students while providing directions and assistance as students located their homerooms. Once students settled, they watched the traditional Dr. Shawn Abel Welcome Assembly through Google Meet, as he informed everyone about the school procedures and RISE Up reminders. The freshmen then went outside to participate in a toilet paper fashion show where they bonded as teams. Afterward, Sidekicks shared their first year of high school experiences and gave high school survival skills. 
The students then visited all seven of their classes, met their teachers and navigated their way around the school. During transitions, Sidekicks continued to offer directions and lead students to their classrooms. Many students felt that the hallways were stressful, including freshman Paige Alley, who described them as "overcrowded." However, with the teachers' and Sidekicks' help, they were able to get to their destinations. Freshman Skylar Martin appreciated the experience, noting that it was "very helpful because they showed us how to get to our classes while making us feel less clueless about what's going on." In the fourth period, the Sidekicks gathered the students for a field trip to the gymnasium, where they received a popsicle surprise to end out the day. 
With the first week of school coming to an end, the new students have started their adjustment to Midlo and the high school experience. Freshman Ani Chervenska said the "school is big, but the teachers and sidekicks are very helpful and I'm excited for the year." The orientation day prepared students for a smooth transition to in-person learning as well as a new school.
Leave a Comment
About the Writer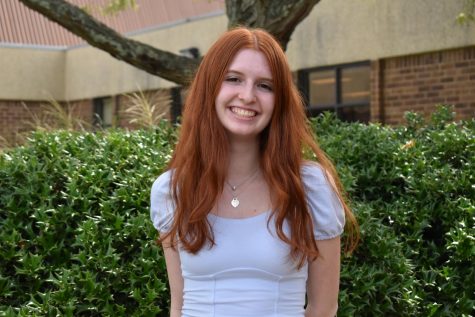 Quinn Downing, Editor-in-Chief
Quinn Downing, Editor-in-Chief, Class of 2023

Junior Quinn Downing has spent three years on staff, writing several student life articles.  She enjoys...